For any visitor or building tenant, stepping onto a rooftop deck can signal that they are entering a world that is separate from the responsibilities that weigh on their shoulders. High up on the roof-maybe it's an open-air restaurant or a social gathering space on top of a condominium-one can relax and enjoy the sweeping views of the landscape beyond the edge of the deck.
To bring enhanced functionality to the rooftop, building owners can consider incorporating a steel pergola into the layout of the outdoor space. To make sure the property stands out and stands strong, consider enclosing the rooftop deck with a sleek steel railing system. Keep reading as we hit on three of our favorite modern roof design ideas that can help create a purposeful and stylish rooftop that invites visitors and tenants to stay a while.
Functional and stylish steel pergolas bring a lasting modern aesthetic up to the roof
With limitless design possibilities, customizable steel pergolas can help building owners carve out a purposeful and stylish living space high up on a roof. The minimalist construction and geometric shapes of a steel pergola also present the perfect opportunity to bring today's in-demand, mid-century modern aesthetic to the outdoor space. Essentially indestructible, steel pergolas will sidestep issues associated with moisture absorption, one of the most common reasons for decomposition in traditional wood pergolas. In fact, they are designed to resist fire, corrosion, twisting, insects, rot and the damaging effects of weathering. With this level of resiliency, steel pergolas will stand strong and look beautiful on any rooftop deck across the country regardless of location—with minimal maintenance required.
Dynamic roof deck railing options like steel systems provide high-end look, enhanced security
Praised for its high performance and low maintenance qualities, steel railing can extend the many advantages of steel to the perimeter of a rooftop deck. The pre-welded nature of a modern steel railing will maximize system strength and rigidity, ensuring that building visitors and tenants are safe while spending time on the roof. Bringing strength and a high-end appearance to any rooftop outdoor space, steel railings from select manufacturers use a multi-layered powder coating to resist rust and corrosion and provide lasting style.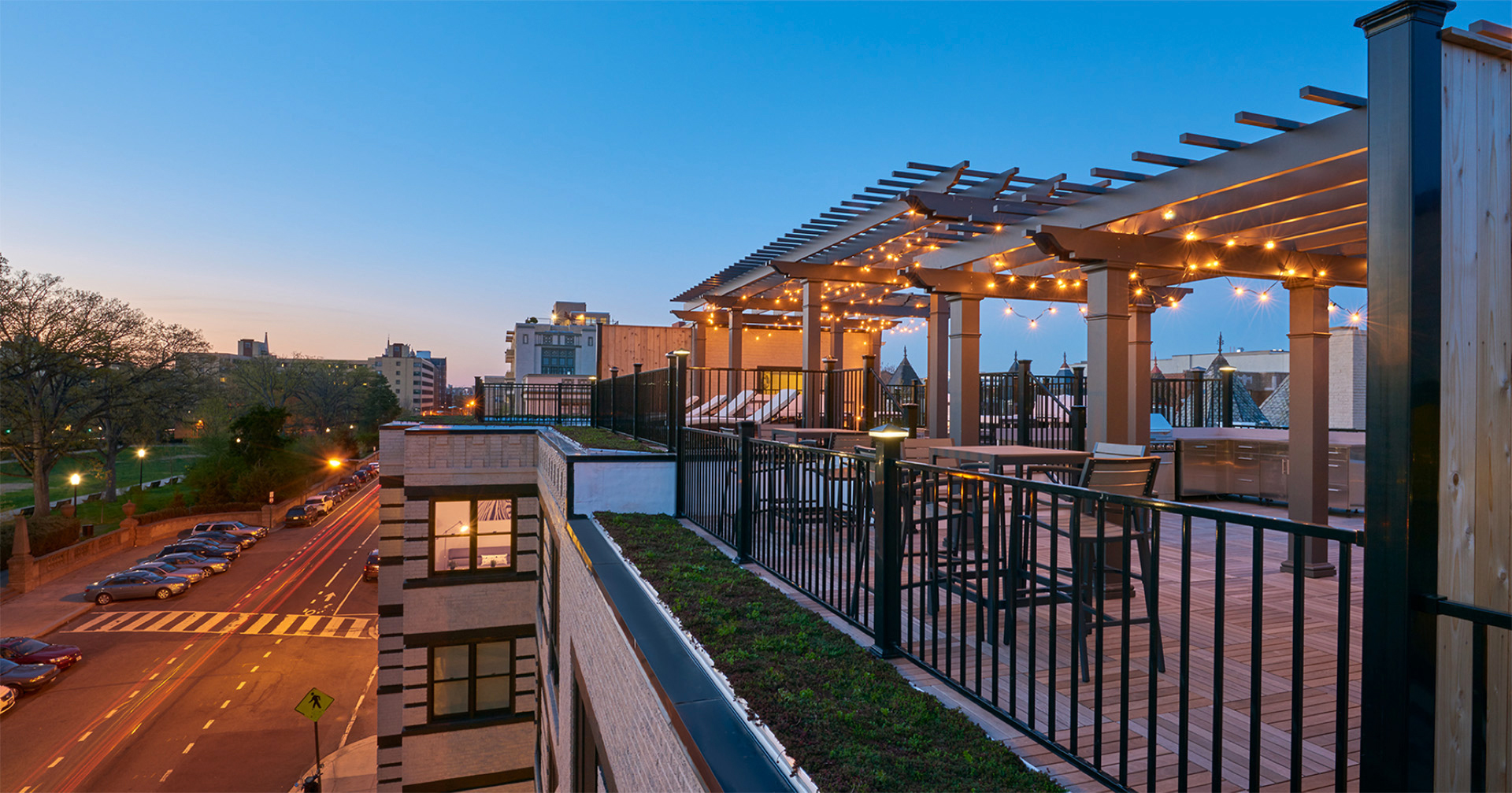 Cable railing nods to in-demand industrial look while highlighting surrounding views
Given present-day tenants' design-orientated preferences, cable railing is an on-trend roof deck railing option. For owners wanting to create a stylish and sophisticated rooftop space while preserving the views of the surrounding landscape, the linear, recede-from-sight railing has it covered. Made with 316 marine grade stainless steel, cable railing (whether oriented vertically or horizontally), offers a distinctive contemporary aesthetic that is extremely durable and easy to maintain.
Ready to take your property to the next level? Look to Fortress Building Products for customizable steel pergolas and best-in-class modern steel railing systems that are easy to install and care for.
You may also like:
4 Elements to Consider When Building a Rooftop Deck
How to Modernize Outdoor Commercial Spaces with Steel Railing