Delivering a sought-after combination of function and form, pergolas are a mainstay in the world of outdoor home improvement. And the experts agree! Skim this article on bhg.com about 14 ways to create a backyard oasis; nearly every idea is made possible by a pergola. Want to define an outdoor activity zone? Consider a pergola. Want to ensure privacy for patios and decks? Screen views with a pergola. Want to add a hot tub for ultimate luxury? Add shade overhead with a pergola.
For homeowners who love to cook outdoors, a pergola may also be the answer. A pergola can help define a designated zone for open-air cooking and dining, complete with a full-size outdoor kitchen or bar, and ample seating. Plus, with a pergola made from metal, there's no need to worry about what effects these types of (often messy) activities might have on the structure.
Keep reading to find out why metal pergolas are perfect for outdoor kitchens.
Cook up a designated zone for cooking and dining with a metal pergola
Purposeful in application, metal pergolas can help define a designated outdoor space to enjoy cooking and dining al fresco. The minimalist construction and geometric shapes of a metal pergola create the illusion of an "outdoor room," while the uncovered rafters still allow natural light and a fresh breeze to flow through the space. To create a functional outdoor kitchen that invites around the clock use, homeowners may need task lighting over the grill and food prep station. Thankfully, installing lighting fixtures is generally much easier with a metal pergola than with a standard wood pergola because the rafter, purlins and beams are hollow. This provides a natural space to hide electrical wires. Finish setting the scene with weather-resistant outdoor dining furniture.
Wood-alternative outdoor building materials serve up lasting performance and style
Pergolas made from steel, a subcategory of metal pergolas, are becoming increasingly popular due to homeowners' growing interest in high-end building materials that deliver lasting performance and style. For example, Evolution Steel Pergolas are designed with sleek structural steel components that are dual layer protected against fire, which means that stray sparks or hot coals from the grill won't damage the structure. The steel components also sidestep any issues associated with moisture absorption, one of the most common reasons a traditional wood pergola will deteriorate over time. Further preserving the structural integrity of the assembly and its beautiful appearance, a powder coated finish provides enhanced corrosion resistance and UV protection. Offering unmatched durability and low maintenance qualities, pergolas made from steel make it possible for homeowners to enjoy a built-to-last outdoor kitchen that effortlessly blends the line between indoor and outdoor living.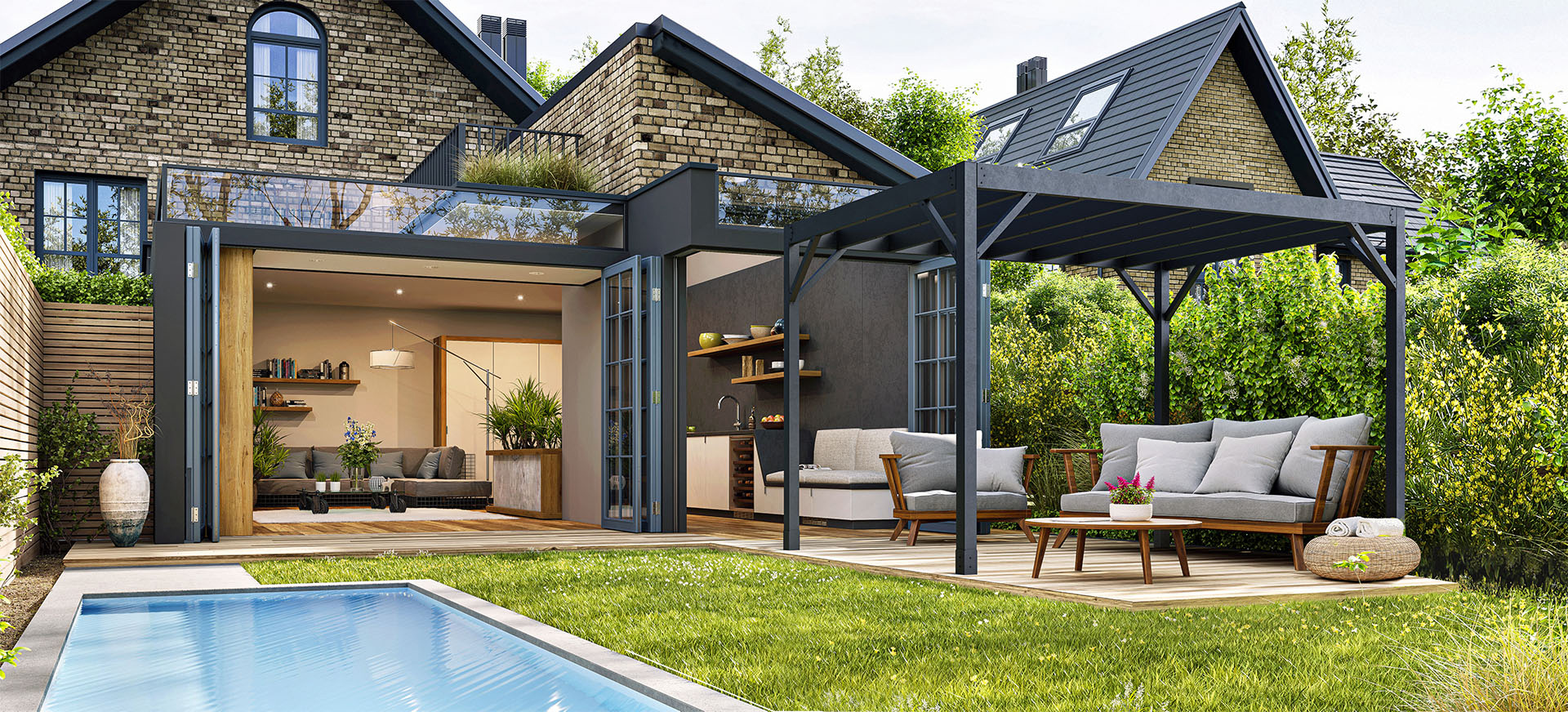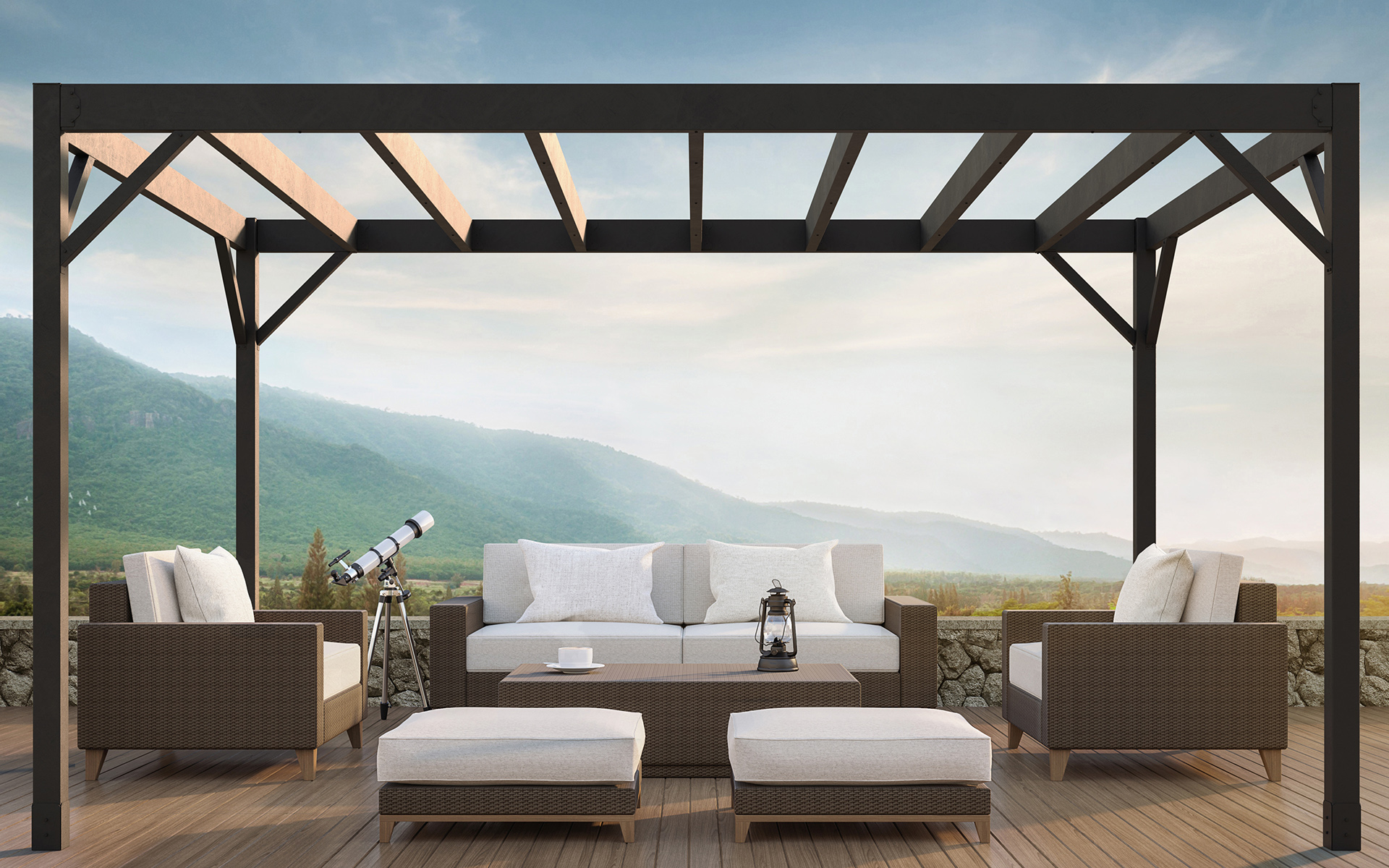 Comprehensive pergola kits make it simple to define an outdoor kitchen
Some homeowners may be hesitant to define their outdoor kitchen with a steel pergola because they don't feel confident installing it themselves or don't want to go through the trouble of hiring a contractor. Easy to purchase and install, DIY-friendly Pergola Kits from Fortress Building Products can help ease these common concerns. The ready-to-assemble kits are offered in three standard sizes to accommodate different outdoor kitchen layouts, including 8' x 12', 10' x 14' and 12' x 12'. A DIY homeowner can count on a straightforward installation process that doesn't require any specialized tools.
Next steps
Find the perfect shade structure to define your outdoor kitchen on our product page [https://fortressbp.com/pergolas]. For design inspiration, try Fortress' augmented reality (AR) visualizer tool [https://fortressbp.com/visualizer], which makes it possible to preview how a steel pergola will look in a 3D setting.