Pergolas offer creative ways to bring enhanced functionality to an underutilized outdoor living space. For example, a pergola can carve out a designated zone for dining al fresco with family and friends just as easily as it can create a remote workstation separate from the house. That said, some homeowners may be hesitant to add a pergola to their backyard because they don't feel confident installing it themselves or they don't want to go through the trouble of finding and hiring a contractor.
Easy to purchase and install (even if the homeowner hasn't had prior experience building outdoor structures), pergola kits can sideline these concerns. A great DIY project for someone dreaming of a personalized outdoor escape, a comprehensive pergola system with pre-cut, pre-assembled steel components can be installed in one weekend. But before the work starts, a dose of design inspiration could be helpful. Here are three modern pergola kit ideas that will enhance any outdoor living experience.
Bring mid-century modern design to an outdoor living space
The minimalist construction and geometric shapes of a steel pergola kit present the perfect opportunity to integrate today's sought-after mid-century modern aesthetic (cue the famed Eamnes chair) into an outdoor living space. This style, which first gained popularity in America's post-World War II era, has experienced a resurgence across the country. By pairing the clean lines of a pergola with simple patio furniture and pillow fabrics in a neutral color palette, homeowners can bring a mid-century modern twist to any outdoor living space.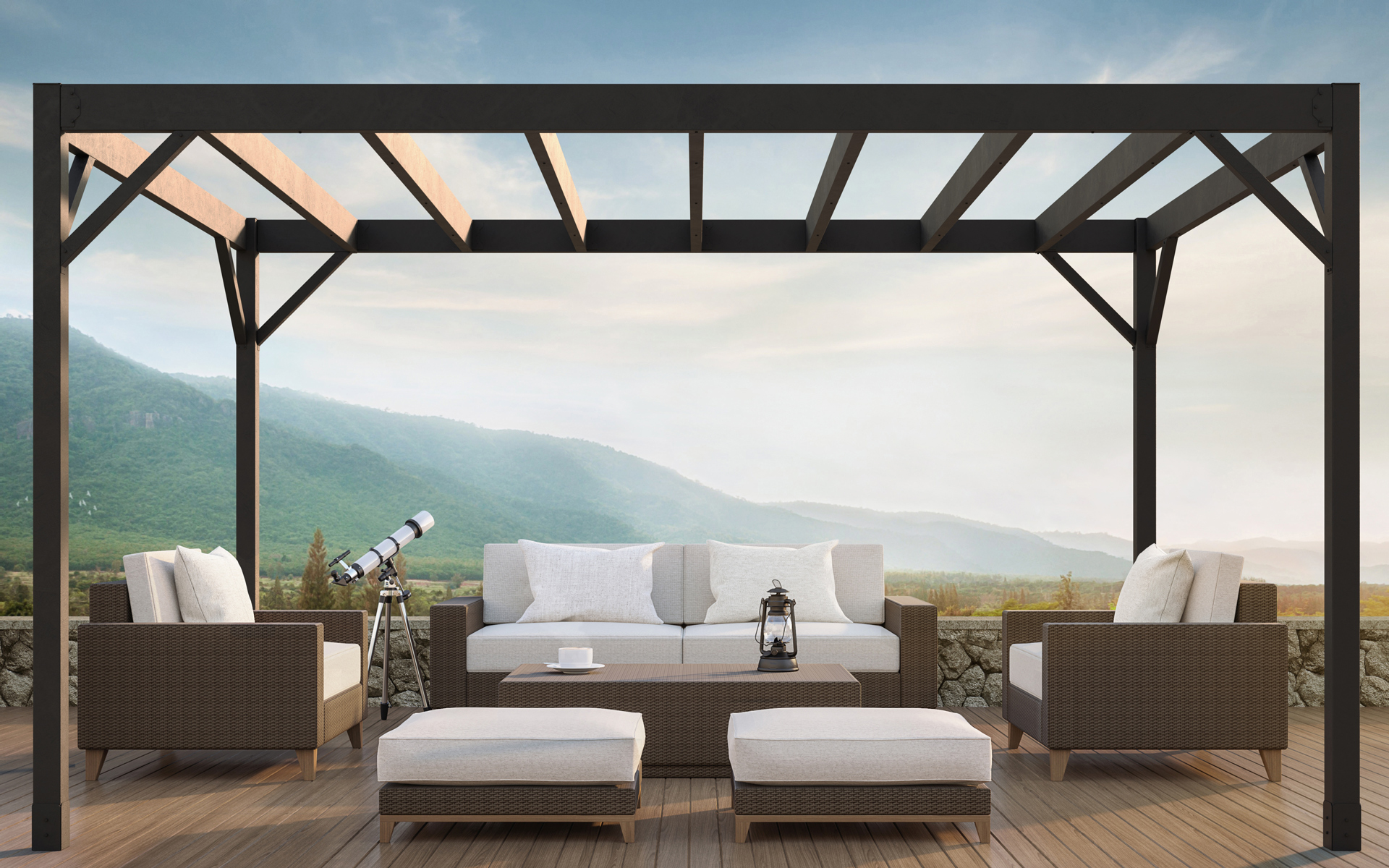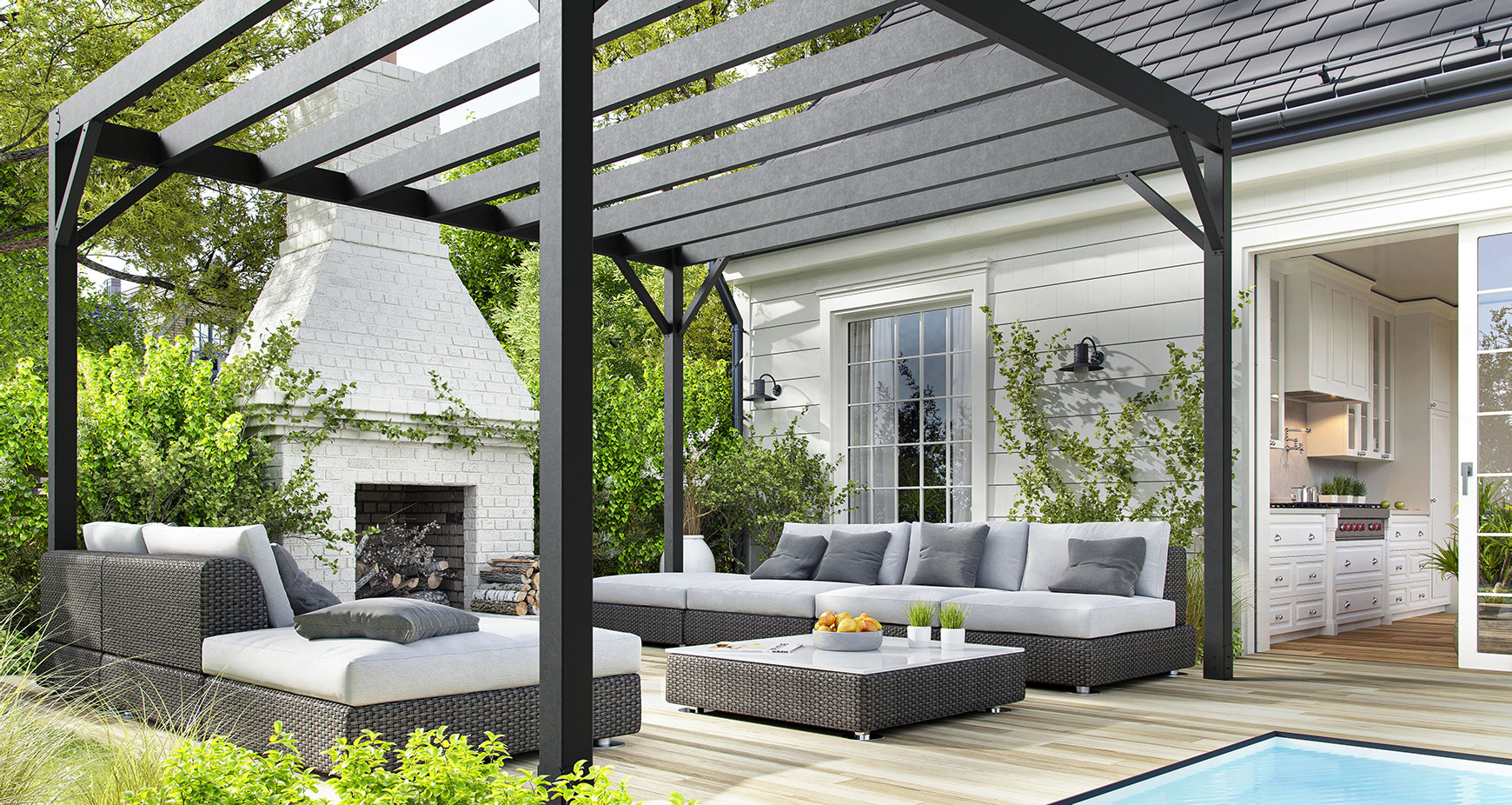 Define an outdoor office area that evokes connection to nature
If working in a dark home office is getting old, homeowners can design a personalized outdoor workstation to spice up the daily grind. Not to mention, working in close proximity to nature has been proven to boost productivity and creativity, as well as reduce stress. Modern steel pergola kits typically sport uncovered rafters for slight but noticeable shade-much like sitting under a tree. Partial shade can help reduce the sun's glare on a computer screen while still allowing natural light and a warm breeze to flow through the workspace. Be sure to provide access to an outlet to keep computers and phones fully charged.
Incorporate lighting to increase fun and functionality
The best designed outdoor living spaces are ones that remain functional even after the sun goes down. To create a space that invites around the clock use, homeowners can suspend simple string or "fairy" lights from a pergola's rafters. The casual look might replicate an outdoor dining experience at a favorite restaurant. For homeowners that would rather incorporate permanent lighting fixtures, doing so is generally much easier with a steel pergola than with a traditional wood pergola because the rafter, purlins and beams are hollow and provide a natural space to hide wires. But don't forget-more hours of enjoyment underneath a pergola does not have to come at a high cost. Festive paper lanterns, modern farmhouse-inspired floor lanterns and candles in tall glass vases can just as easily light up the night.
Start building the ultimate backyard destination today
Purchasing and installing a modern pergola has never been easier thanks to Fortress Building Products' new Pergola Kits. The ready-to-assemble Pergola Kits are available in three standard sizes to accommodate different design visions and backyard functions, including 8' x 12', 10' x 14' and 12' x 12'. Learn more at fortressbp.com/pergolas/kits.
You may also like
Is it better to build a pergola or buy a kit?
3 creative pergola ideas to try