Adding a pool to your outdoor living space is a gamechanger. A pool provides tons of fun for kids and adults, a place to exercise and a relaxing setting for you and your guests to gather around. Building a high-quality deck can take your pool from a fun recreation space to the focal point of your backyard.
If you're ready to complete your dream outdoor living space with a deck and a pool, considering which material is best for your pool area can help you create a space that is as long-lasting as it is beautiful. Before you choose what decking material is best for your pool deck, consider these four important factors.
1. The best pool decking resists moisture
When wood is exposed to moisture, it becomes vulnerable to rot and warping. While you can frequently apply a moisture seal to the surface of wooden pool decking to protect it against splashes and drips, the boards are also subject to near-constant exposure to condensation from the pool's water vapor. This last type of moisture can find its way onto the underside of the decking boards, which-in the case of wood-was likely sealed once during installation and never sealed again.
A capped bamboo-PVC composite board can solve this dilemma. Their acrylic polymer caps protect all sides of the boards from moisture damage without the need for staining or sealing. Plus, select capped bamboo-PVC composite boards expand and contract 25 percent less than comparable options, so you don't need to worry about water causing them to warp or deteriorate. That means you'll get a deck that provides a consistent appearance and a level walking surface even after years of moisture exposure.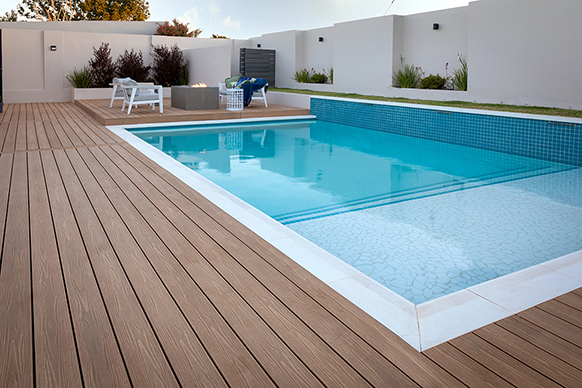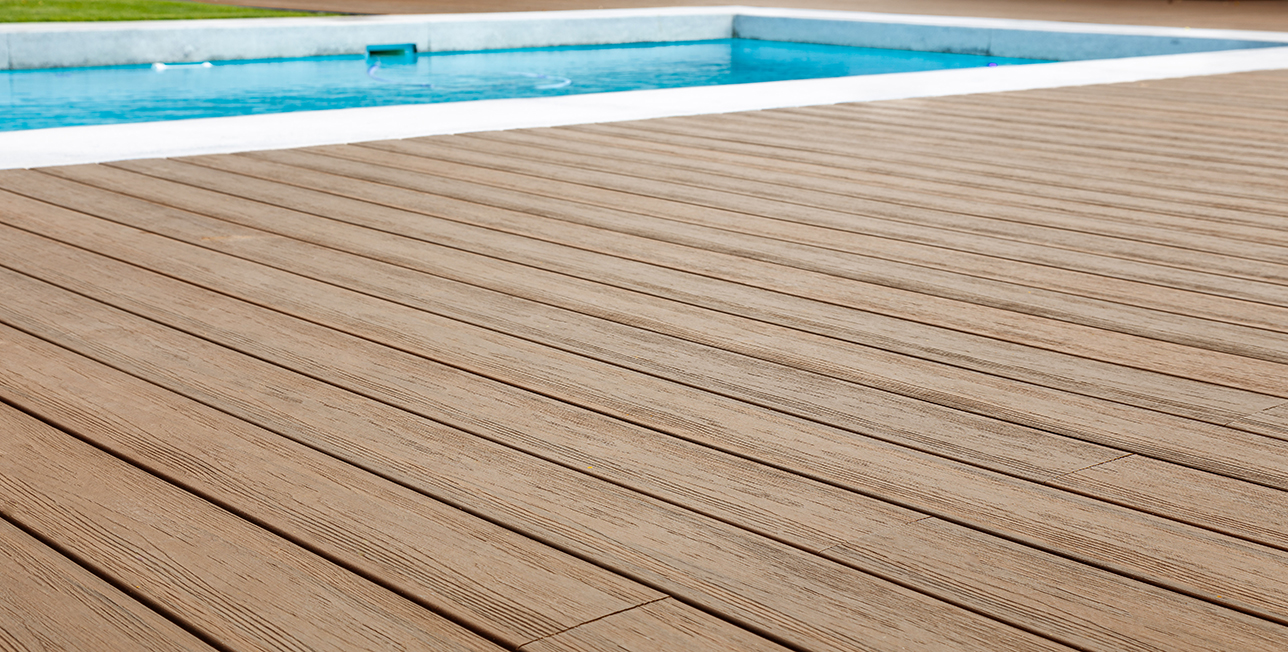 2. One word: safety
Some pool decking materials become slippery when wet. This can make for an unsafe walking surface for your family and guests. To help create surer footing around your pool, it's important to choose a decking material like high quality capped bamboo-PVC composite that is proven to perform well in wet conditions. Not only does this material generally feel more "grippy" underfoot, but certain brands also have objective proof to back up this perception.
Apex® decking by Fortress Building Products, for example, received the highest non-slip rating in a ramp test that involves bare feet and soapy water. Reliable traction is a key factor in poolside decking, as it is often the primary defense against children and pets accidentally falling into the pool.
When selecting the best materials for pool deck safety, it's also important to consider your deck frame. A poolside deck will likely be home to many pool-related amenities (outdoor furniture, hot tub, etc.) whose added weight can create structural issues for traditional wood-framed decks.
Steel deck frames offer larger load limits, so you can add the amenities you want with confidence that your deck will be able to support their weight. Plus, steel frame profiles resist moisture and warping as a result of extreme changes in temperature, which means they'll stay straight and true over time. This makes for a more enduring, dimensionally stable deck framing solution that keeps pool deck boards flat and smooth underfoot.
3. Pool decking that doesn't need shade
Many pools are installed in areas that get a lot of direct sunlight, like along the south or west side of the home. While this makes for more refreshing dips in the pool, it also exposes the deck to harmful UV rays, which over time may cause the wood deck boards to fade and splinter.
Select bamboo-PVC composite deck boards are encapsulated in an acrylic polymer that delivers outstanding UV performance. This means they won't fade like other PVC products do or have their hue eventually turn a dull gray like wood does. The cap also prevents splintering, so you can feel completely comfortable and confident walking barefoot across your deck.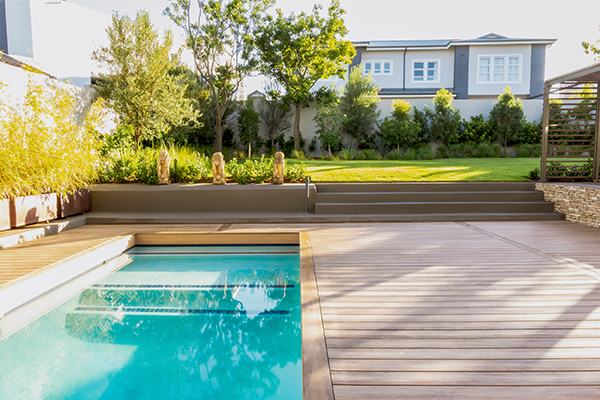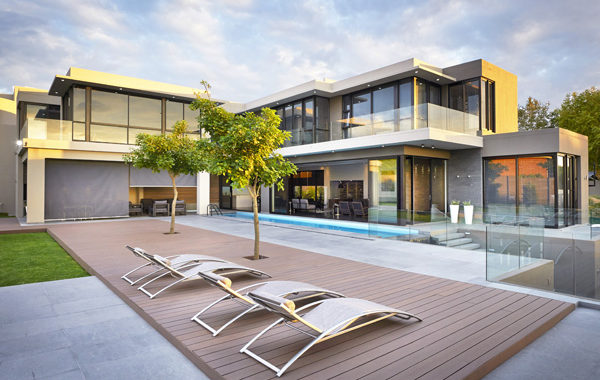 4. Keep moss, mildew and algae off your deck
Moss, mildew and algae all thrive in high-moisture environments like those surrounding a pool. These organisms can find homes in the inconsistent surfaces of wood deck boards, requiring scrubbing or chemical intervention to remove them.
Composite boards' uniform surfaces and moisture resistance create an inhospitable environment for moss, mildew and algae. If you do notice any of these on your composite boards, they can simply be cleaned off with soap and water-there's no need for noxious chemicals.
Which material should you choose for your pool deck?
Ultimately, the best pool decking material can:
Resist rotting and warping in a high-moisture environment.
Offer sure footing when wet.
Withstand prolonged UV exposure without fading or splintering.
Resist the growth of moss, mildew and algae.
Apex® capped bamboo-PVC composite decking by Fortress Building Products meets all these criteria and more. In addition to its performance advantages, it comes in 12 different colors to match your personal style.
YOU MAY ALSO LIKE:
Top Pool Safety for Your Backyard
How to Choose Decking That Lasts