In the warm summer months, more and more people are updating their outdoor living spaces. Investing in deck railings that are durable and low-maintenance is a popular upgrade because it allows homeowners to increase the safety of their decks while also displaying some of their personal style. Wood-alternative materials are not just long-lasting and corrosion-resistant, but they also present a variety of inspiring design trends.
However, with many more options available, homeowners may not know which deck railing is right for them. Should they go for a simple and elegant railing design or one that is more creative and maximal? Should they choose cable railing infill panels or glass? The options can seem endless. That said, these five deck railing design ideas will help inspire homeowners to find the right railing option for their outdoor living space.
1. Railings that won't interrupt the view
Shifting away from traditional wood designs to wood-alternative building materials, homeowners can now enjoy sturdy railing options that have a narrow profile. These metal deck railing options can let the organic beauty of a cultivated garden or distant forest take center stage.
Likewise, glass infill panels provide an openness to the space that is hard to beat. They showcase landscapes or skylines while still safety containing children and pets. These infill panels are also easy to clean and long-lasting, simplifying deck maintenance.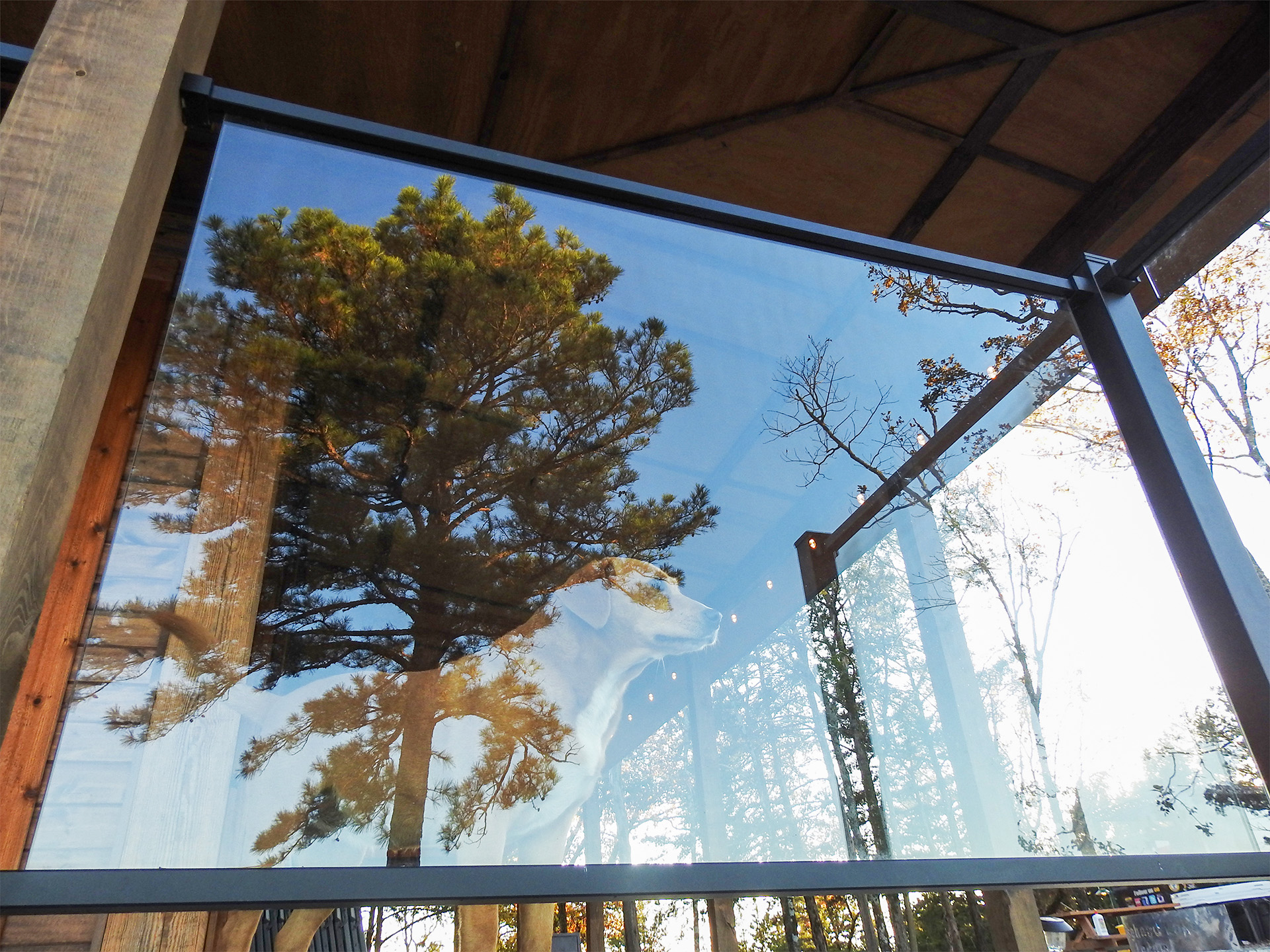 2. Simplicity and strength
Steel cable deck railings sport a modern aesthetic that doesn't compromise on strength and safety. When made from marine grade steel cabling and reinforced with an anti-corrosion coating, cable railings offer premium protection season after season.
Further, select options only require tensioning upon installation, reducing the time homeowners will need to devote to maintenance while also ensuring a safer railing. This leaves more time for relaxation as the days grow longer, making this simple deck railing design perfect for a quick DIY project.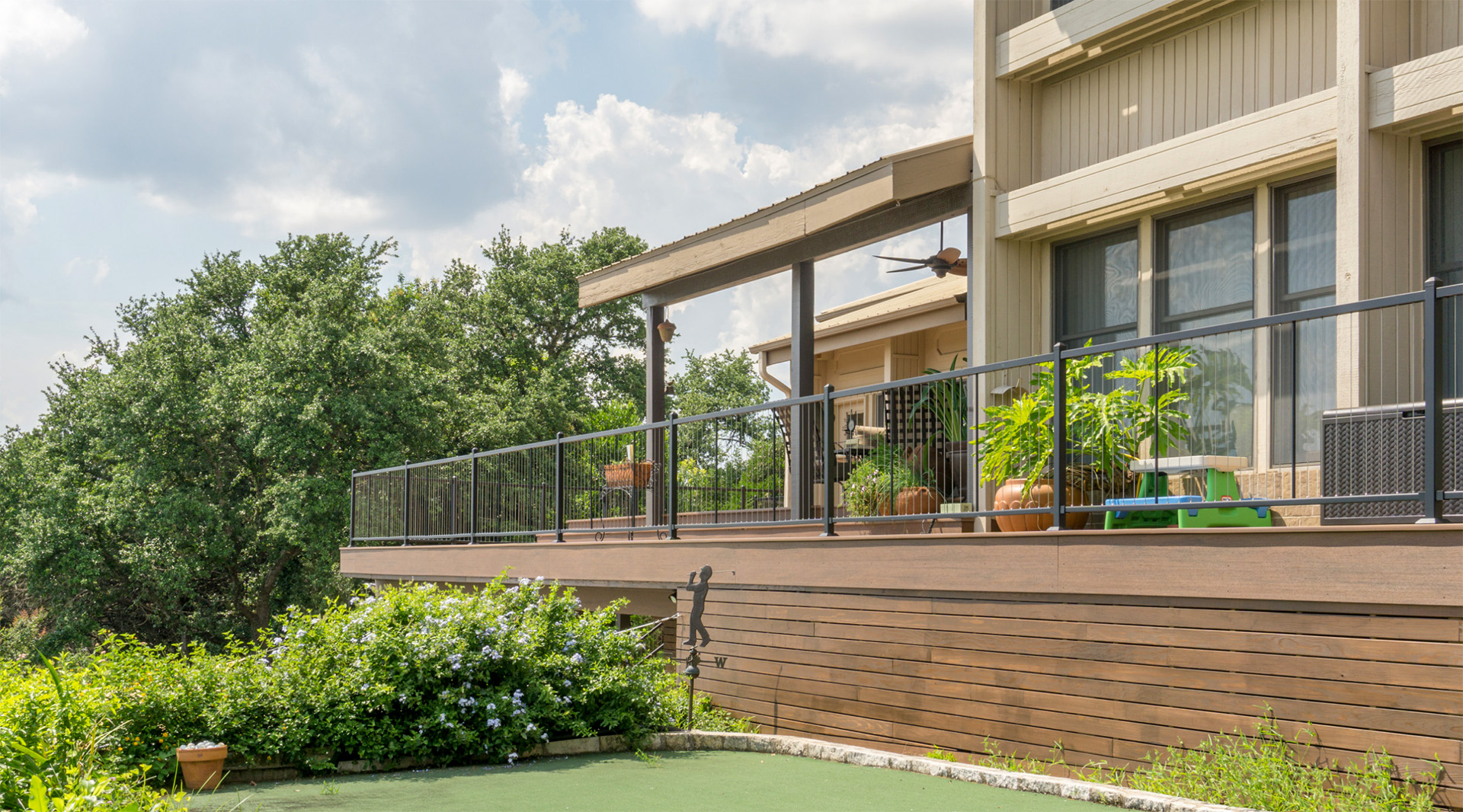 3. Drink railings for easy hosting
Railings that are compatible with flat accent top rails, also known as drink rails, can help make any deck area more inviting for barbeques or outdoor socializing. Installed as toppers for sturdy and sleek aluminum railings, these accent rails can foster a comfortable space to chat or provide a convenient way to incorporate some pops of color to the space with planters placed along the deck rail. When they're made from aluminum or steel, these top rails resist damaged caused by condensation from drinkware and drainage from planters.
4. Change it up with black or white design options
Simple accents and sleek lines remain a staple of outdoor living trends. Because of this, black and white railings continue to be popular choices among homeowners. Whether the space could use an accent railing or would be better suited with a more subtle choice, going for clean neutrals can achieve a timeless look for years to come.
Available in these colors, aluminum railings offer a long-term option with minimal maintenance required. Often these metal deck railing options are available in black or matte white, making it easy for homeowners to swap out their old wood railings for whichever best suits the style of their home. Pre-welded panels ensure that installation is simple without sacrificing structural integrity, making them a savvy investment for any homeowner.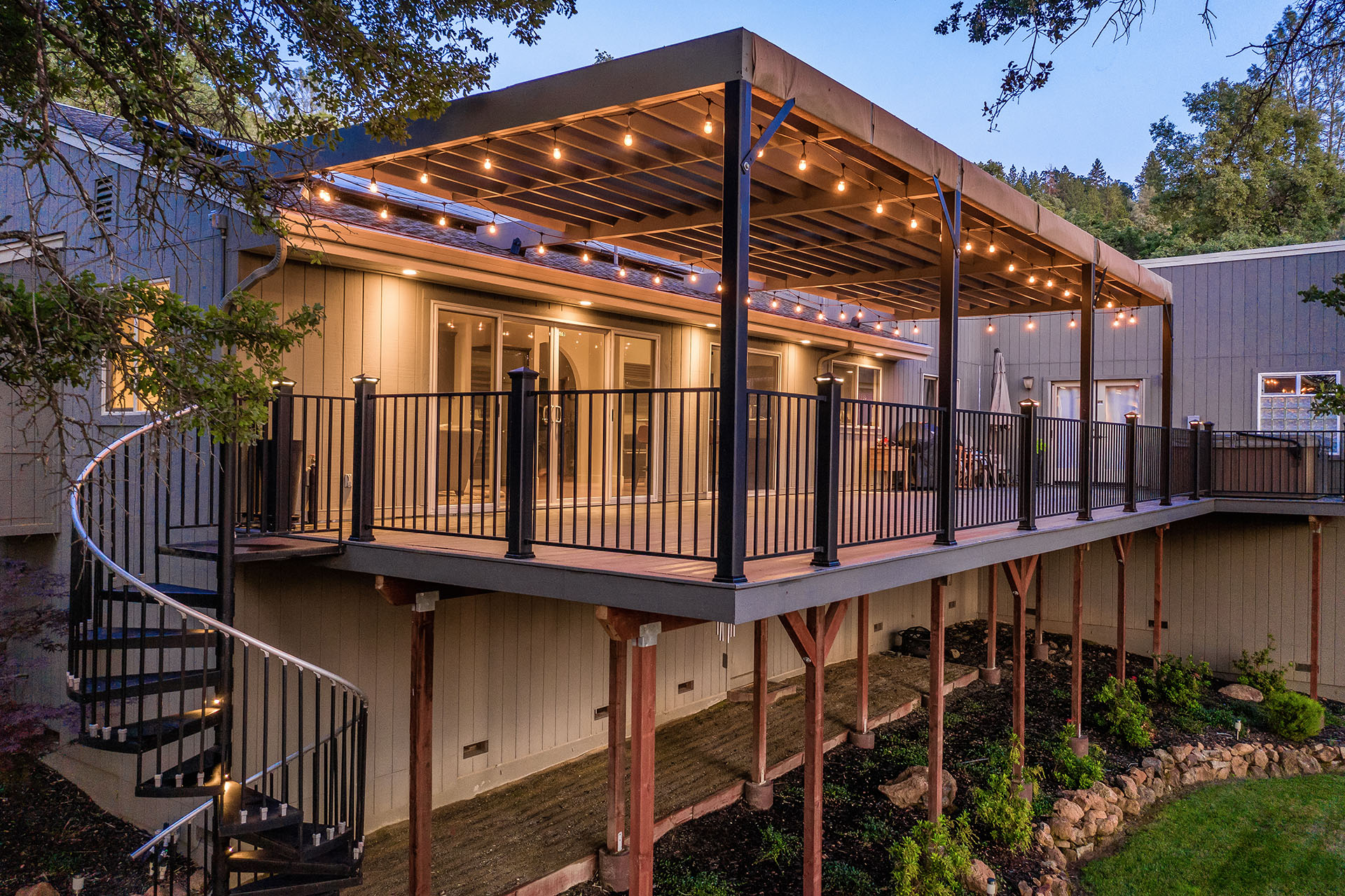 5. Get creative with mixed materials and textures
With so many possibilities on the market to customize outdoor spaces, many homeowners are getting creative with deck railing ideas. Instead of deciding on only one style, mixing materials and textures is a popular way to create a unique look that will stand out among neighbors and friends. From utilizing glass infill panels between other types of railings, pairing black aluminum railings with earth-toned composite decking, or adding different post toppers, it's an easy way to add dynamic qualities to a deck area.
Inspiration for any space
Fortress Building Products offers a variety of deck railing styles that can be easily customized to fit the needs of any outdoor living space without compromising safety and style. No matter the design aesthetic, these selections of wood-alternatives railings will keep decks looking sleek for years to come.
You may also like:
What is the Safest Deck Railing?
5 Tips for Common Deck Railing Challenges
Installation 101: Guidelines and Code Requirements for Deck Railings