Regions that experience extreme dry heat like Arizona, New Mexico and West Texas can present unique challenges for a deck's daily use and upkeep. For example, direct, intense sunlight can both heat deck railings to uncomfortable temperatures and cause deck boards to prematurely split by evaporating any trace amounts of moisture within them. These types of issues have prompted many homeowners in these areas to ask, "What are the best deck materials for direct sunlight?"
These challenges aren't limited to desert-like areas. In the summer, decks that have little or no shade can take a beating from the increased heat and UV exposure. While homeowners were previously limited to expensive and dense hardwoods that required labor-intensive upkeep and harsh chemicals to remain beautiful and structurally sound, advances in composite boards and wood-alternative railing have inspired homeowners and professionals alike to reevaluate the best decking materials for hot climates.
That said, material isn't everything. The overall design of the space also plays a factor when building a deck in a hot and dry region. Below are two material considerations and two cooling outdoor living amenities to help homeowners in areas that experience intense heat build a deck that is functional and low maintenance.
Decking that keeps its cool
Without a doubt, the most important consideration for decks in high heat climates is selecting a deck board that remains cool throughout the day. The color greatly affects how much solar radiation any material absorbs-the darker it is the hotter it gets. Knowing this, homeowners are often encouraged to opt for lighter stains for wood or brighter paints for PVC materials. These options, however, may not be the best for extremely hot climates due to the heightened risk of splitting and expansion.
For example, even if wood stays cool to touch, the extreme heat will still cause moisture to evaporate from the boards' cellular structure, causing shrinkage, splitting and premature aging. Further, homeowners will have to regularly sand, re-stain and re-seal their decks to ensure they remain beautiful each season. Composite deck boards, on the other hand, resist UV-damage and splitting for a low-maintenance option that emulates the warmth of wood.
However, because they contain some of the same materials, many wonder which gets hotter: PVC or composite decking. Advanced bamboo-composite decking can resist heat retention and disperse absorbed heat more quickly than wood-based composites.
In addition to heat retention, materials that expand or contract greatly with temperature changes can bend or warp, causing premature aging and imperfections on a deck's surface. Bamboo-composite deck boards reduce this issue by expanding and contracting about 25 percent less than other boards. When finished with a light acrylic cap, bamboo-PVC composites may be one of the best decking materials for hot weather.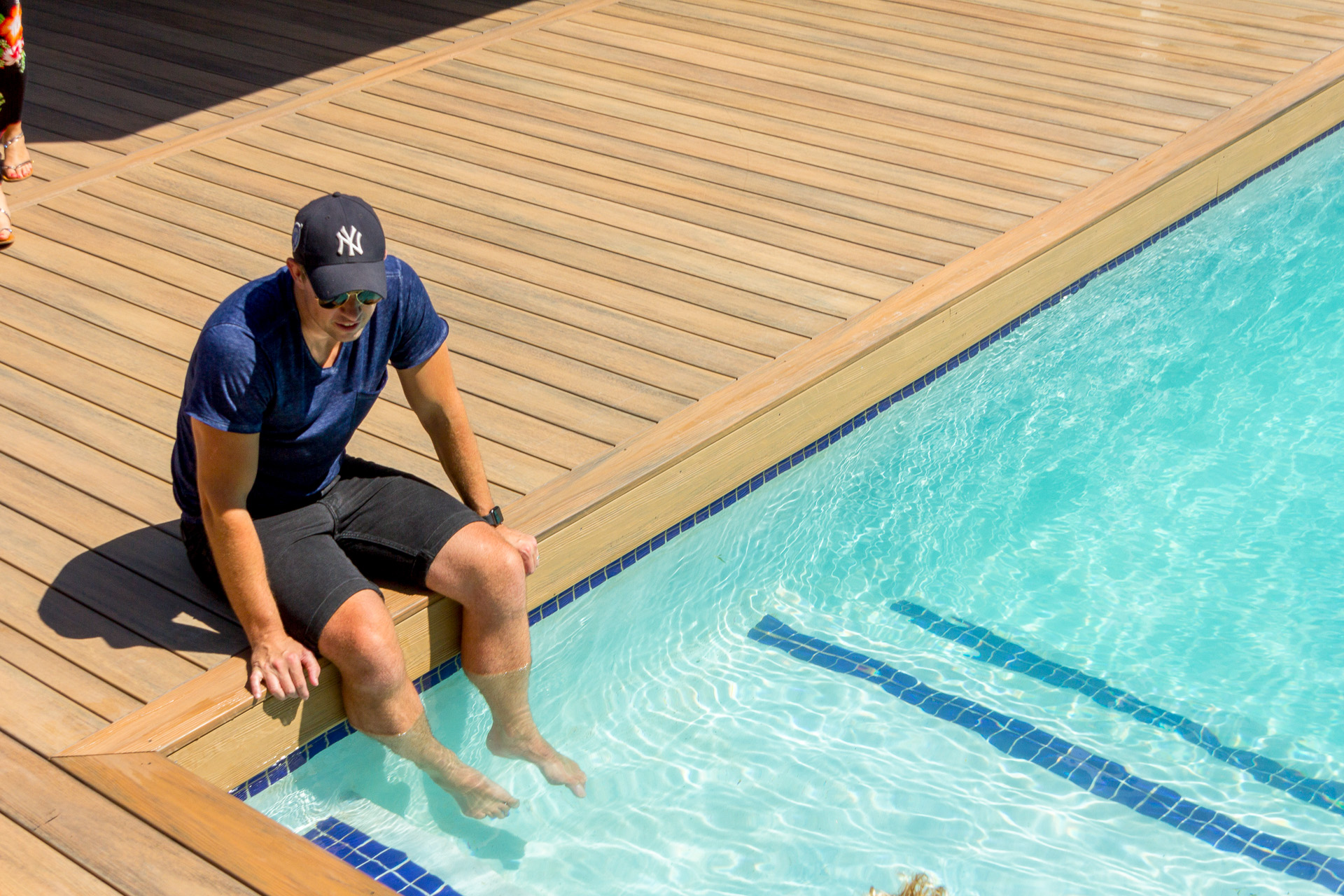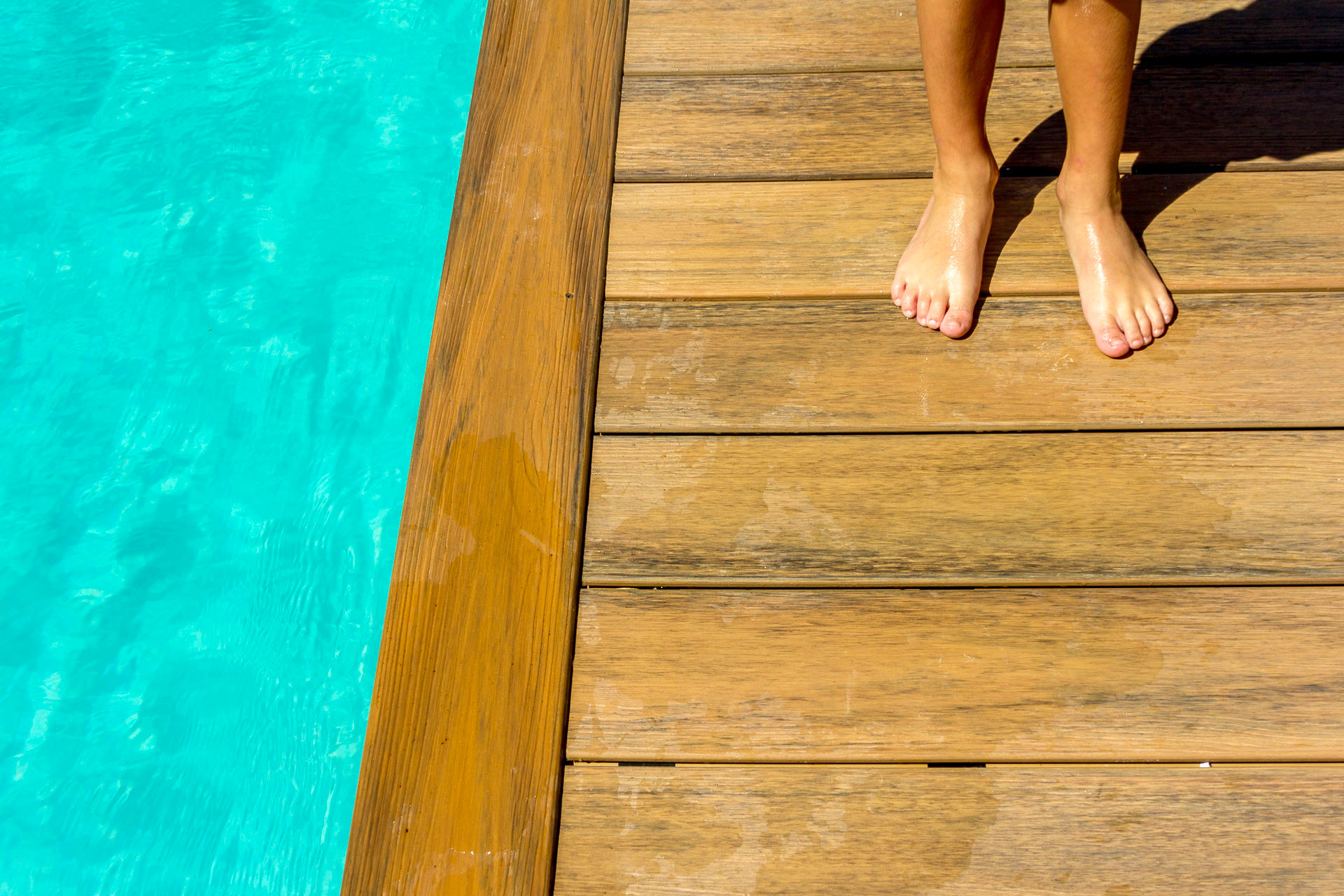 Fade-resistant railing stays safe and beautiful
Like deck boards, deck railing that stays cool and resists UV-damage can make deck use more enjoyable and the upkeep minimal. Like in tropical regions, decks that use heat dispersing railing materials can create a more habitable outdoor living space, even during the hottest days of the year.
Because aluminum can disperse heat up to 15 times faster than other materials, railing made with this material remains cool even in direct sunlight. Whether finished in a black or white architectural-grade coating, select offerings can withstand intense UV-exposure, sidelining the need to touch up or completely recoat it.
Providing shade with a pergola
While use and required upkeep are certainly factors to consider when selecting the best deck materials for hot climates, it is also important to consider a deck's overall layout to create a comfortable outdoor living space. If there are no trees or large plants to cool a deck with some shade, homeowners can consider making their own.
Pergolas, whether left bare or draped in fabric, can provide a bit of shade for some relief from the sun while still allowing homeowners to reap the benefits of fresh air. When built from steel, these pergolas provide the same weather and UV resistance as wood-alternative deck materials. Requiring virtually no-maintenance, these steel structures can add a point of architectural interest and definition to an underutilized section of the deck while providing much-needed shade on a summer day.
Incorporating fountains and water features
Another design feature that can help support a comfortable deck during the hotter times of the year is to incorporate water features like small pools, misters and fountains into the deck itself. When placed strategically, these features can decrease surrounding temperatures, provide a relaxing atmosphere and attract birds and butterflies.
However, their added weight can create structural issues for traditional wood-framed decks. Further, spills or leaks can damage wood decking. Steel deck frames provide larger load limits to support water features (and other amenities), so homeowners can add a fountain or small pool without worrying about deck failure. Further, these frames resist moisture damage, ensuring the deck system stays beautiful and true for years to come.
Materials and design: a one-two punch to beat the heat
Building a functional and low-maintenance deck in regions that experience high heat requires choosing the best decking materials for direct sunlight and being creative with its layout and design features. When homeowners choose wood-alternative materials, they can rest assured their deck will resist premature splitting and greying without the labor-intensive upkeep typically associated with traditional wood decks.
To aid in unique deck designs, Fortress Building Products developed a visualizer tool so homeowners can plan the outdoor living space of their dreams.
You may also like:
The Best Decking for Direct Sunlight Doesn't Fade or Degrade After Years of Sun
Deck Material Roundup: Which Board Should You Choose?