With more people enjoying their decks as flex spaces for work and relaxation, maintaining a level of privacy can help homeowners maximize productivity when working from home and their ability to unwind during a staycation. While this may be more of an issue for elevated decks that peek above privacy fences, ground level decks on properties with more open fence designs can also benefit from incorporating features that reduce sightlines.
Privacy decks can help homeowners design an outdoor living space can provide a quiet space and encourage social interactions with their neighbors. But there is a fine line between affording enough privacy and severing a deck's connection to its surroundings. Homeowners looking for privacy deck ideas should first consider their needs. What sightlines do they want to block? Do they want a permanent fixture like a privacy fence on their deck? Or would a more flexible design that can be moved to accommodate changing desires?
The following privacy deck ideas can help homeowners achieve their design goals with durable and beautiful outdoor living solutions.
Privacy walls made from horizontal deck boards
For homeowners looking for a stationary and permanent feature, installing a privacy fence or wall on a deck with composite deck boards can create a lasting and stylish nook for homeowners. They can attach two steel joists vertically to their deck's outer joist and join them together with horizontal and evenly spaced composite deck boards for a weather-resistant privacy wall. Homeowners who choose this method may want to consult with a local decking professional before building to ensure their privacy wall meets all code requirements.
Alternatively, homeowners can install a privacy fence-like railing by joining railing posts with composite deck boards. This type of privacy deck feature will need to adhere to all local and international safety codes, so homeowners are encouraged to consult with a professional before installing.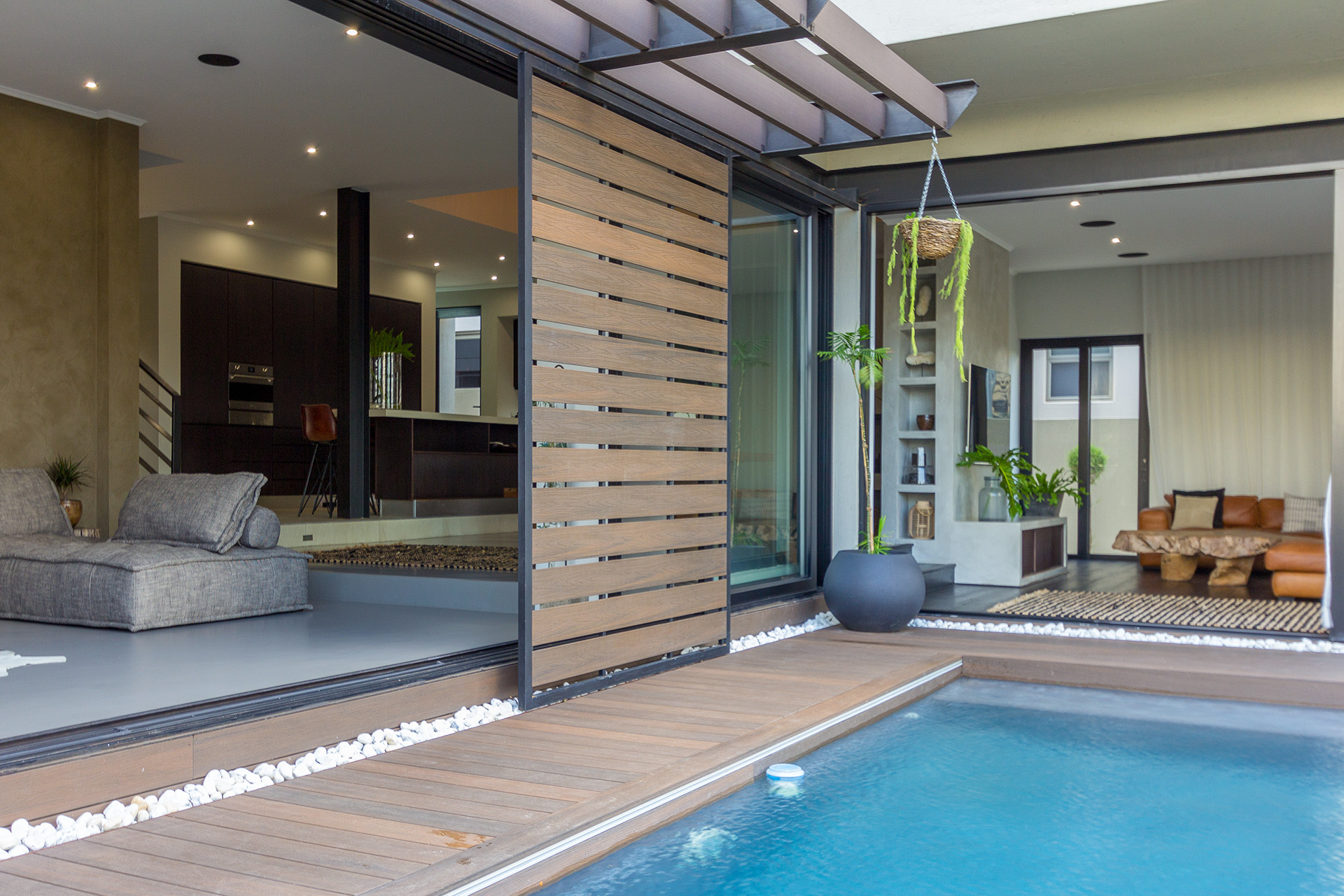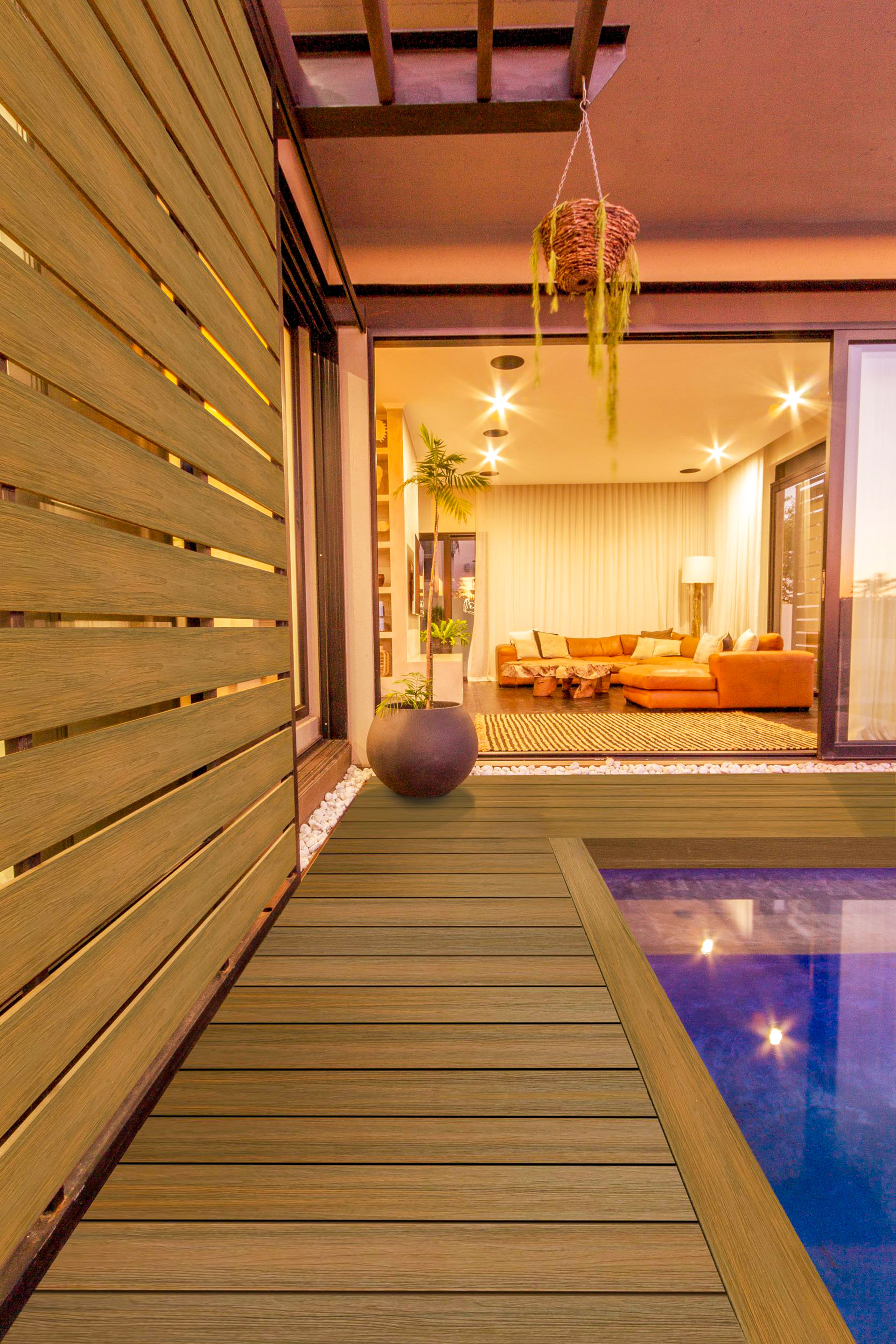 Building a privacy screen from deck boards
For a moveable privacy solution that sidesteps code requirements, homeowners can construct a deck partition with deck boards and fascia. These partitions can be a simple wall with ground supports or a folding series of panels. They can also incorporate planters at the bottom to help stabilize them and add a touch of greenery to a private deck.
When it comes to moveable privacy walls, the weight of the material can have a considerable impact on the wall's functionality. With lightweight foam cores surrounded by capped bamboo-PVC composite, select wood-alternative deck boards can be up to 45 percent lighter than other composites. This not only makes installation quick but also contributes to a movable wall that is easily positioned.
Creating private outdoor space with a pergola
Privacy features can also be multifunctional. Steel pergolas can incorporate a number of privacy-enhancing design elements, including outdoor curtains. These curtains can be closed to create an area tucked away from outside eyes or drawn back to allow breezes to roll freely through the flexible structure. In addition to adding sought-after privacy, pergolas can enhance the overall design aesthetic of a deck by providing a focal point for gathering and entertaining.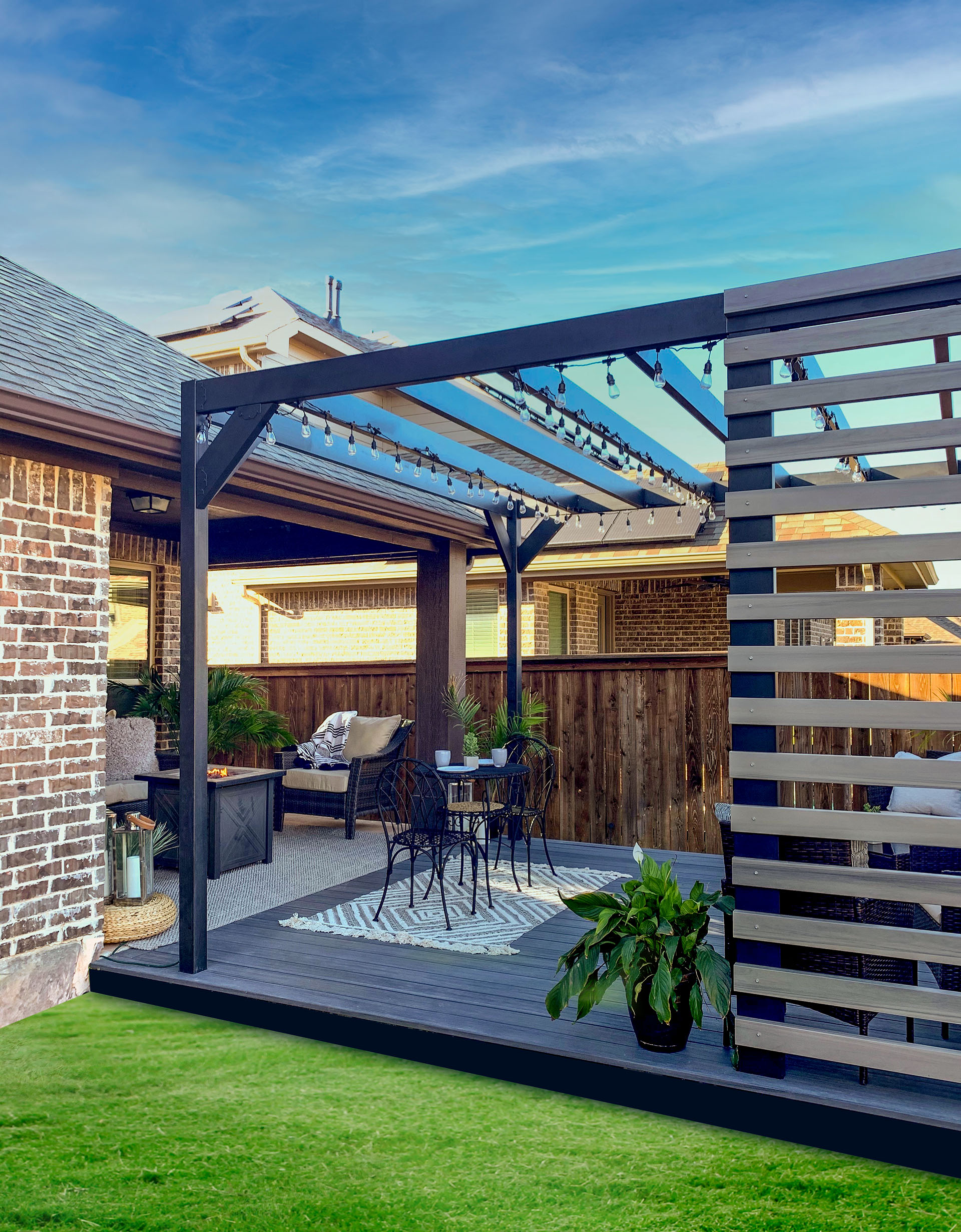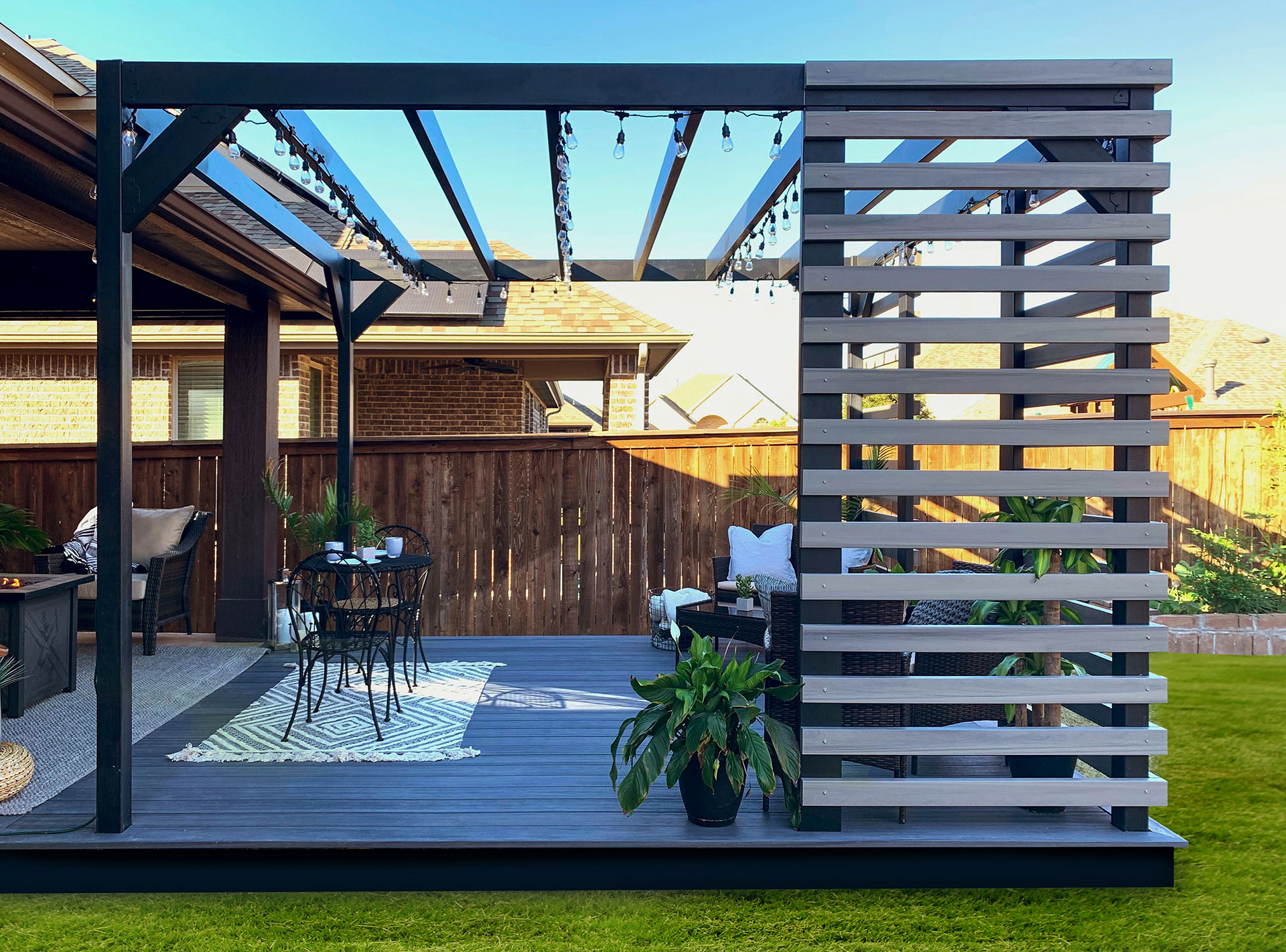 Using real plants to create a living privacy fence
Homeowners can decorate the perimeter of their decks with large plants to create a living privacy fence that also supports biophilic design. This privacy deck idea will heighten the space's connection to nature while helping create a secluded oasis for homeowners to enjoy.
That said, large plants can present several challenges for traditional wood decks. For one, the added weight of the plants, pots and soil may inch dangerously close to deck load limits. Secondly, spills and drainage may expose deck boards and framing materials to water, causing premature rot and decay. Because steel is corrosion resistant and supports larger load limits, decks framed with this durable and strong material can take on the added weight of oversized plants.
When steel framing is combined with composite deck boards, homeowners can rest assured that their privacy decks will be able to resist water damage from drainage as well as the weather. This means that even with increased moisture exposure, a deck built from wood-alternative materials can remain beautiful and structurally secure year after year without labor-intensive maintenance.
There are many ways to build a privacy deck
The four privacy deck ideas above are only a few of the many ways homeowners can create a secluded, flexible space for themselves and their loved ones. Whichever method a homeowner chooses, wood-alternative materials from Fortress Building Products can help ensure any privacy features will be both long-lasting and beautiful.
You may also like:
3 Creative Pergola Ideas to Try
Installing a Privacy Fence: Choosing to DIY or Hire a Contractor