Multilevel decks can create visually appealing and sprawling outdoor living spaces. For homes in mountainous regions or those simply built on hilly properties, multilevel decks can also maximize views and reduce the amount of work needed to level a sloped landscape. For these reasons and more, homeowners are seeing the value in this deck design.
Unlike their single-level counterparts, multilevel decks can accommodate today's more complicated and varied plans as well as sought-after outdoor amenities like outdoor kitchens. While this can be music to the ears of some homeowners, it can be a sticking point for others. With all the options of building materials, deck board colors, railing systems and more, some homeowners may not know where to start when planning their deck. Choosing a design that creates a functional and unique space is in the eye of the homeowner, but the following multilevel deck ideas can help show what's possible.
Creating focal points on multilevel decks
Because multilevel decks are generally more expansive than single-level ones, they can cleanly accommodate multiple deck board colors more easily. When these decks use wood-alternative steel framing, they can also rest assured their decks can handle the added weight. Homeowners can take advantage of this by strategically using multiple tones to create focal points across the deck surface. For example, a homeowner could use a different color to highlight stairs or to indicate different outdoor amenities, like a grill or a hot tub. Entire elevations can also have different colors. Doing this can evoke various moods to the different areas of the deck without sacrificing a cohesive design aesthetic.
Using different deck board colors can create unnecessary work for homeowners who choose traditional wood boards. Not only do they have to do routine and labor-intensive upkeep, but they also have to factor in the different timelines for boards to start showing signs of weathering. For instance, in areas with intense UV-exposure, darker stains will fade much faster than lighter ones—all but guaranteeing around the clock maintenance to keep all parts of the deck beautiful. Composite deck boards, on the other hand, have UV stabilizers, a chemical makeup that reduces the effects from the sun and stays more consistent in look, color and performance, ensuring their beauty year after year with virtually no-maintenance.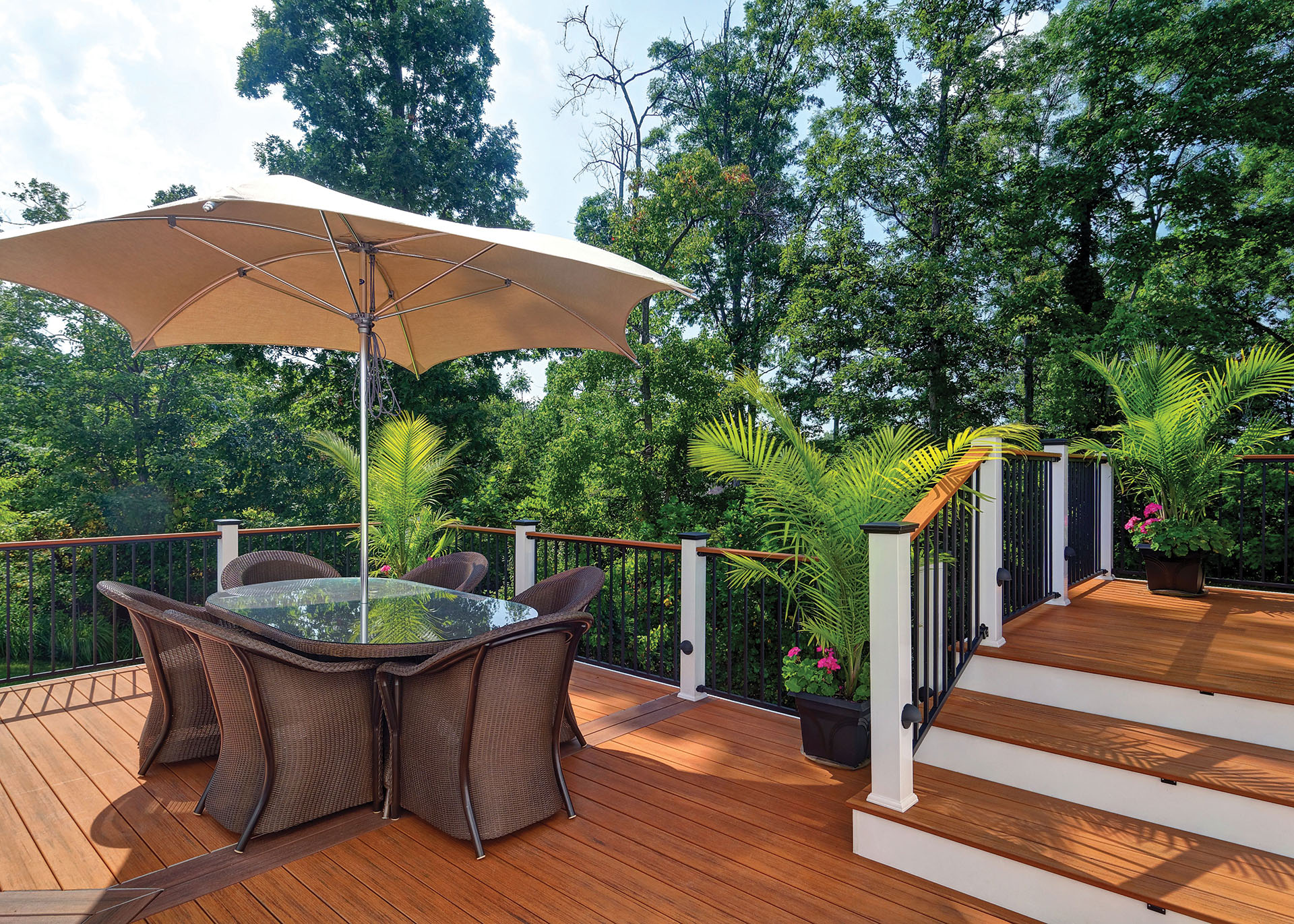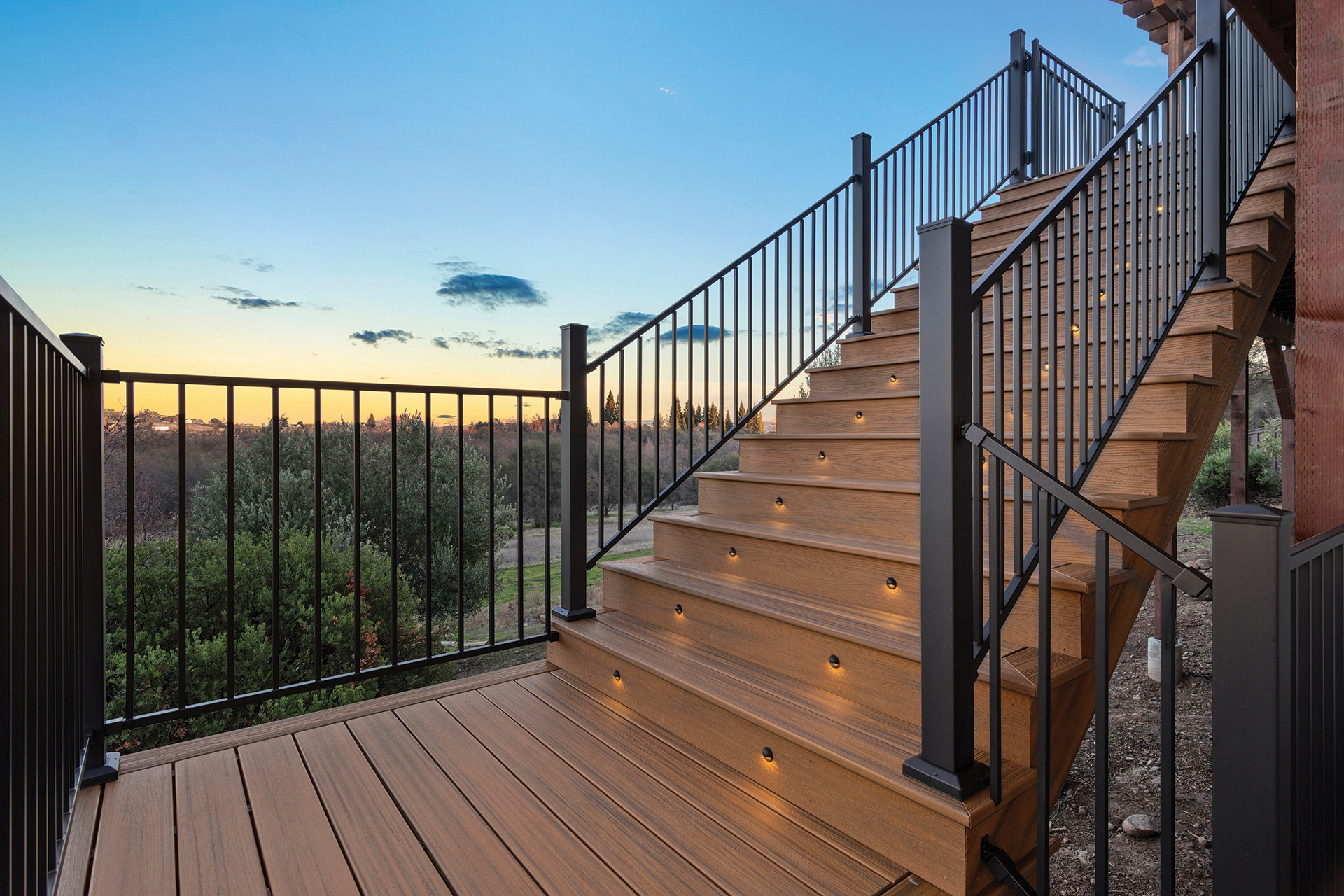 Varying railing to increase safety and access to views
Multilevel decks can have different railing requirements for each elevation. While upper levels will most likely need railing to satisfy code requirements, ground-level sections, if they are less than 30 inches above the ground, may not. These varied requirements give homeowners the option of installing railing around every level or only the levels that need it.
If a homeowner chooses to install railing only on an upper level, they may find that bulkier options can draw unnecessary attention to this feature, blocking views and distracting from the overall design of the multilevel deck. Aluminum railing complies with International Building Code (IBC) requirements without taking away from the deck's design because its narrow profiles almost fade into the background. Select manufacturers offer custom infills like glass and cable that disappear almost completely for a sleek and secure railing solution.
Adding architectural interest with a pergola
Much like how contrasting deck board colors can create focal points, a pergola can further define a space on a sprawling multilevel deck. These open structures can crown the top-level deck and provide shade without blocking sightlines. They can be placed on off-center lower levels to indicate a designated zone to accommodate outdoor dining or relaxation. For example, surrounding a ground-level hot tub with a pergola can create a more intentional space. When a pergola is built with steel, it can offer premium corrosion-resistance, sidelining potential water damage.
Industry-leading steel pergolas are also available with versatile lateral bracing and purlin components that provide nearly limitless configurations, making it ideal for multilevel decks.
Making stairs simple and safe
Deck stairs can be the bane of contractors and DIYers alike. Not only are there multiple code requirements to keep in mind, but they also often need multiple tools to complete. Because multilevel decks need stairs, choosing easy-to-install and long-lasting deck stair frames can alleviate one of the most complicated aspects of these builds. Fortress Building Products offers a comprehensive steel deck stair framing system that decreases installation time and carries a 25-year warranty, promising to hold up year after year. Homeowners can customize their deck stairs with LED lights to create a safe and welcoming environment well after the sun has set.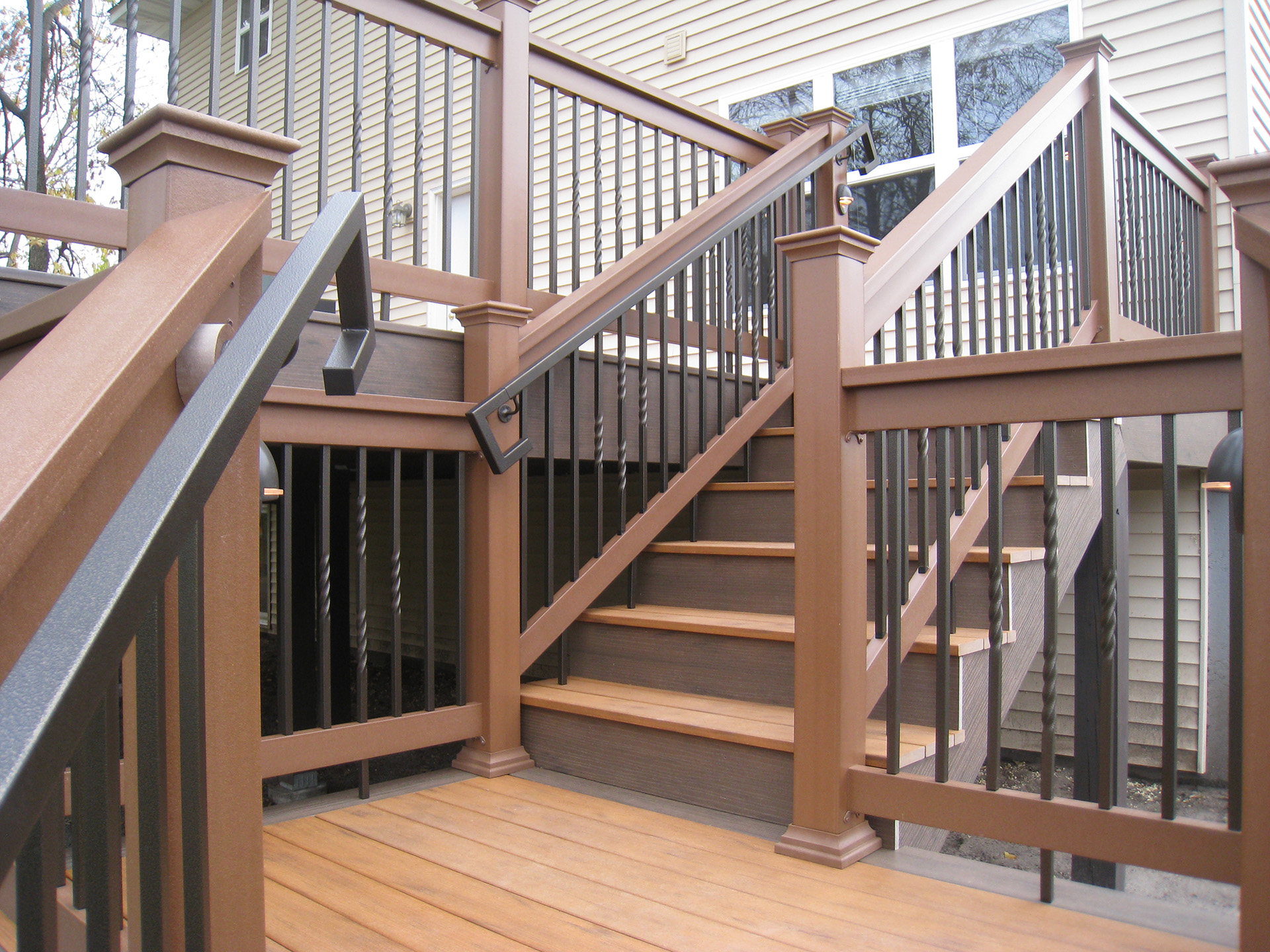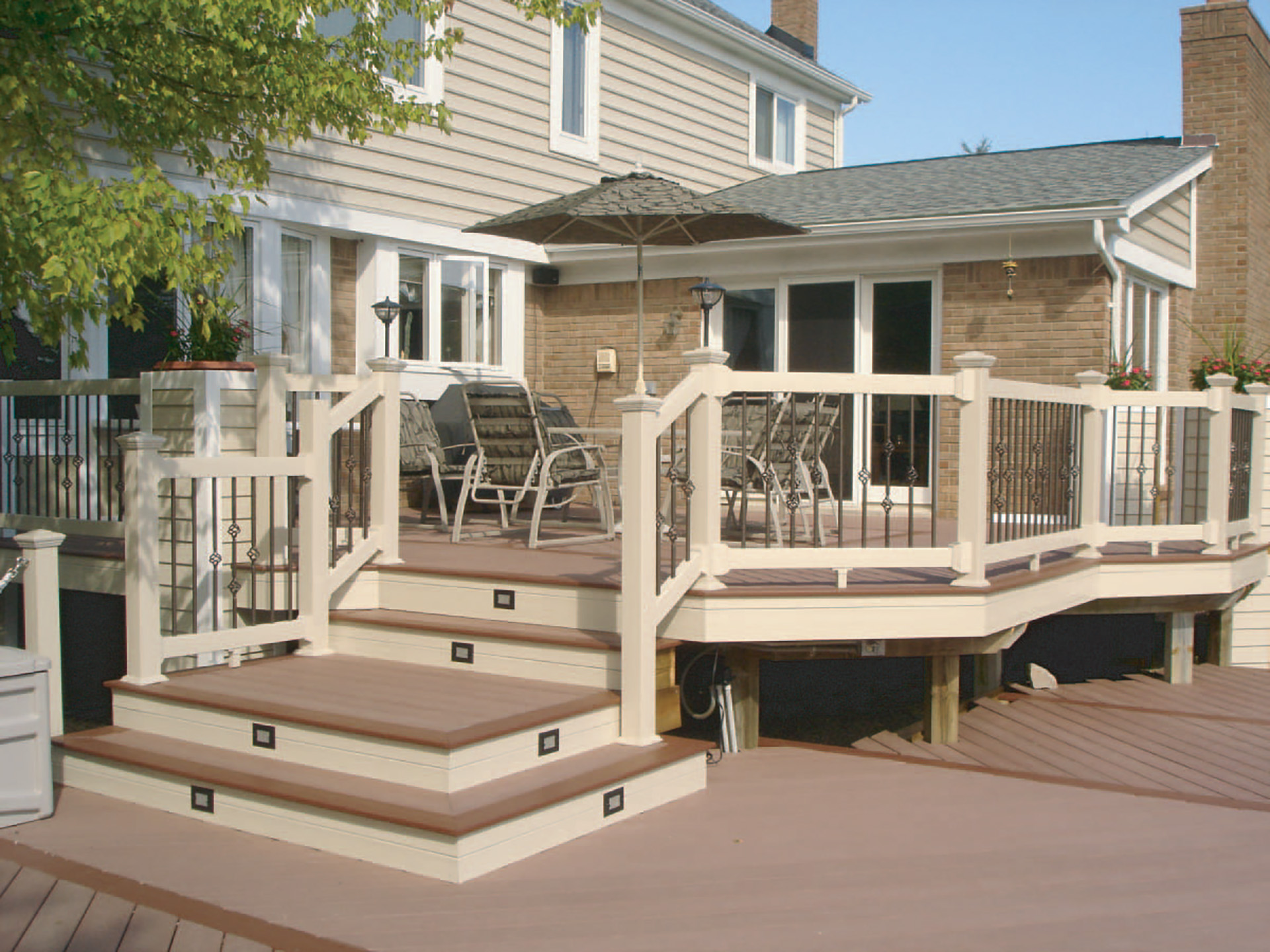 These multilevel deck ideas are just the tip of the iceberg
Multilevel decks can incorporate a variety of different design elements and architectural features. This level of design freedom gives homeowners the ability to customize their space to fit their functional needs and personal tastes. Fortress Building Products' complete family of wood-alternative deck building products, from decking to railing to pergolas, work together to provide exceptional performance and style no matter the design.
You may also like:
What is the Safest Deck Railing?