Deck stair installation can be intimidating. Between demystifying international and local code requirements and reliving the terror of high school algebra, many DIYers avoid deck stairs like their lives depend on it—which, given the dangers inherent in deck stairs, they often do. Building deck stairs can be so detailed that, in the words of Washington Post writer Tim Carter, explaining the job adequately would require a small book.
How to Build Safe Deck Stairs
Fortunately, with advances in deck stair offerings, the process should no longer strike fear in the DIYer's heart. For instance, steel framing systems simplify many of the more difficult challenges of the deck stair installation process while providing a modern look that will last. With the right knowhow, tools, guides and materials, any DIYer can install deck stairs that are both safe and beautiful. Here's how:
1. Understand international and local building codes
2. Consider deck stair framing materials
3. Use deck stair calculators
4. Choose a few good tools
5. Opt for continuous handrails
Understand international and local building codes
The first thing most experts will tell beginners is to know both the International Residential Codes (IRC) as well as local additions. IRC requirements ensure a baseline of safety. Local codes amend these to account for specifics (like snowfall and ice in northern cities) and can often be found on city or county websites. Knowing these requirements can spare homeowners from costly and time-consuming re-installations.
Consider deck stair framing materials
A reliable way to a code-compliant deck that is safe from the ground up is to consider materials. Whether used to frame a full deck or just the deck stairs, steel provides a yield strength that is approximately 10 times greater than wood. This strength in conjunction with steel's resistance to corrosion and rot make it a material that, when installed correctly, will satisfy any coding requirements and will endure the elements without the risk of deterioration.
Stay mathematically grounded: use deck stair calculators
Understanding rise over run, is straightforward in theory. Understanding it while taking into consideration tread width and thickness, step height and pattern variance can have first timers and seasoned DIYers alike missing their marks, resulting in deck stairs that do not touch the ground or do not sit flush. Luckily for the less mathematically inclined, there are now tools and methods for dealing with measurements.
First, stair calculators can help calculate measurements for steel deck stair framing systems and adjust those measurements in the blink of an eye. Secondly, many manufacturers have created prefabricated deck stair stringers to simplify determining the size and angle of the stairs. However, because most of these stringers are stand alone, homeowners will still need to calculate tread thickness and width.
To sideline these challenges, solution-driven manufacturers offer integrated steel stair framing systems, which come with easy-to-assemble stringers, brackets, and stair trays. These components are available in a variety options for a fully customizable stair framing system that is durable, low-maintenance and aesthetically pleasing (did we mention another common mistake in deck building is ignoring aesthetic details?).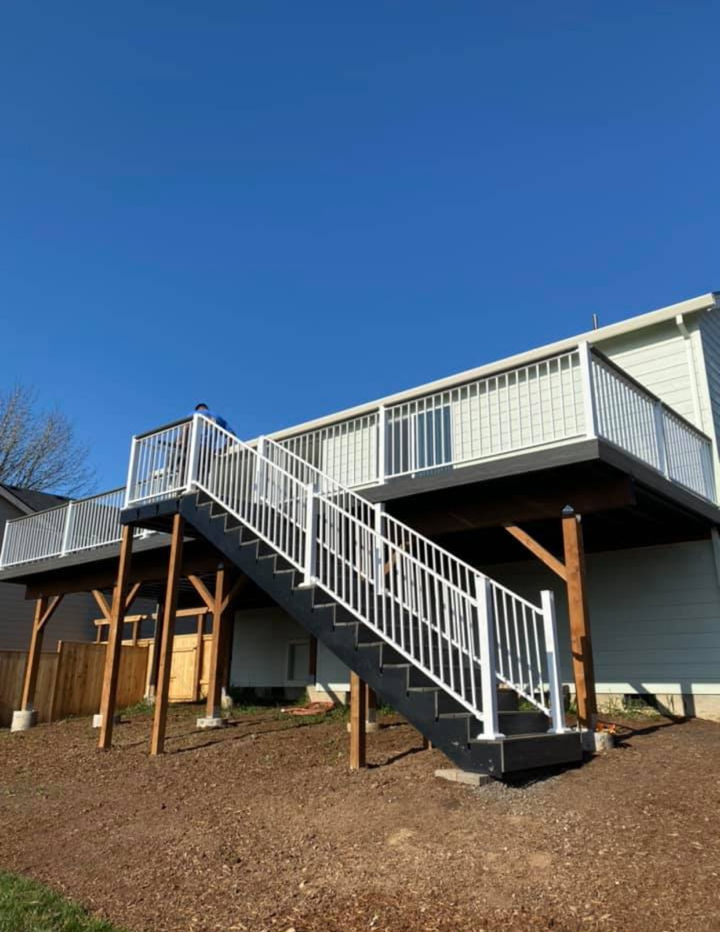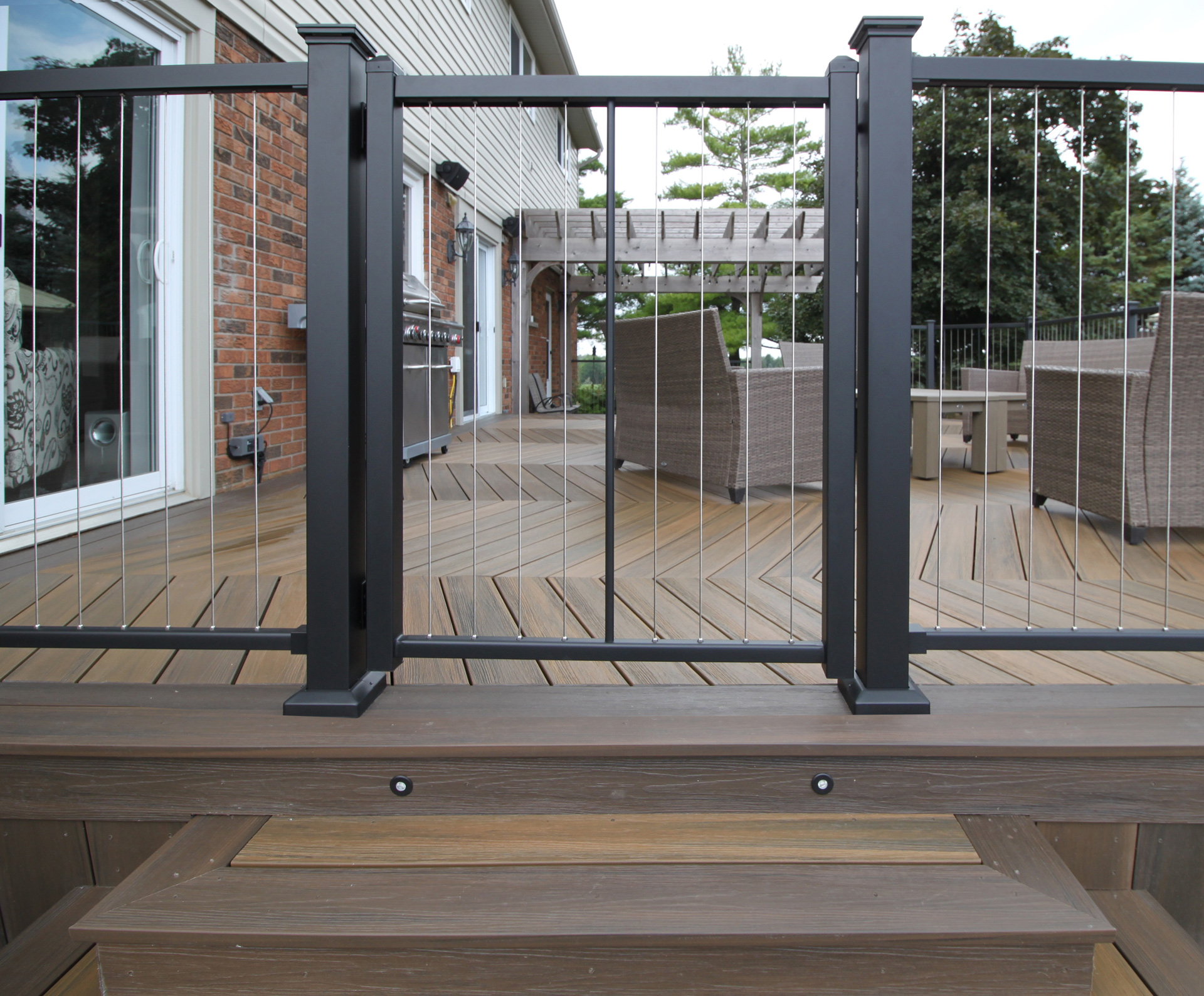 Choose a Few Good Tools
Tom Silva, This Old House's general contractor, demonstrates that to install deck stairs that are structurally sound with wood DIYers need both a circular saw and a handsaw because a circular saw alone will cause unsightly overcuts that weaken the overall strength of deck stair stringers. That said, cutting lumber by hand increases the likelihood of less than perfect right angles and miscalculations.
In stark contrast, complete steel stair systems use fixed and adjustable stair brackets that can accommodate various rise and run options. These systems include blocking every 10 inches on center for railing post attachment and stair tread attachment as well as self-drilling screws both to maximize the strength and security of connections and to streamline the installation process.
Speaking of Streamlining: Opting for Continuous Handrails are a Must
Deck stair handrails are meant to make outdoor sanctuaries accessible and safe in all weather. For this reason, they must be continuous. Handrails that are not continuous invite the potential for injury-a houseguest no one wants to entertain.
Category-leading manufacturers have created handrail systems that are compliant with the Americans with Disabilities Act requirements and easy for DIYers to install. These handrails are 100 percent recyclable and can be fully integrated with any number of deck railing systems to give any deck the continuous clean lines it deserves and the accessibility homeowners expect.
Going from How do I Install Deck Stairs to I just Did
While it can be intimidating, installing beautiful and safe deck stairs is easier than one would think with a complete steel stair framing system. The simple and innovative solutions of the Evolution steel stair system can make the headaches normally associated with deck stair installation disappear like magic.
Ready to give deck stair installation a try? Fortress® can help complete any deck project with compatible steel framing systems, continuous handrails and durable capped bamboo-PVC composite deck boards. These systems are strong and virtually maintenance free and, when combined, are sure to elevate any deck.
You May Also Like:
How to Frame a Deck with Steel: Your Top Questions Answered