Against the backdrop of today's unpredictable landscape, one trend remains constant: Americans are spending more time than ever sprucing up their homes to accommodate work, school and play. Interestingly enough, it's the surge in outdoor home improvement projects that has captured the attention of chief economist, Max Anderson, at Porch.com. In a recent npr.com article, Max is quoted saying, "We have tracked a threefold increase in searches for deck builders. There's also been a sharp uptick in the number of fences going up. In fact, fence installation services are up 144 percent from last year."
So, that poses the question, what types of fences are being installed? Since the golden days of white picket fence Americana, wood has been the material of choice for outdoor home improvement jobs due to its low upfront cost and natural charm. However, many building pros are now turning to alternative options such as aluminum, composite and steel to deliver a chic, upscale aesthetic to perimeter lines in an economical fashion. Since each type of wood-alternative offers varying advantages across different applications, what do building professionals need to know about the differences between materials? With a little expert advice and the simple roadmap below, making a thoughtful, informed recommendation is easier than ever.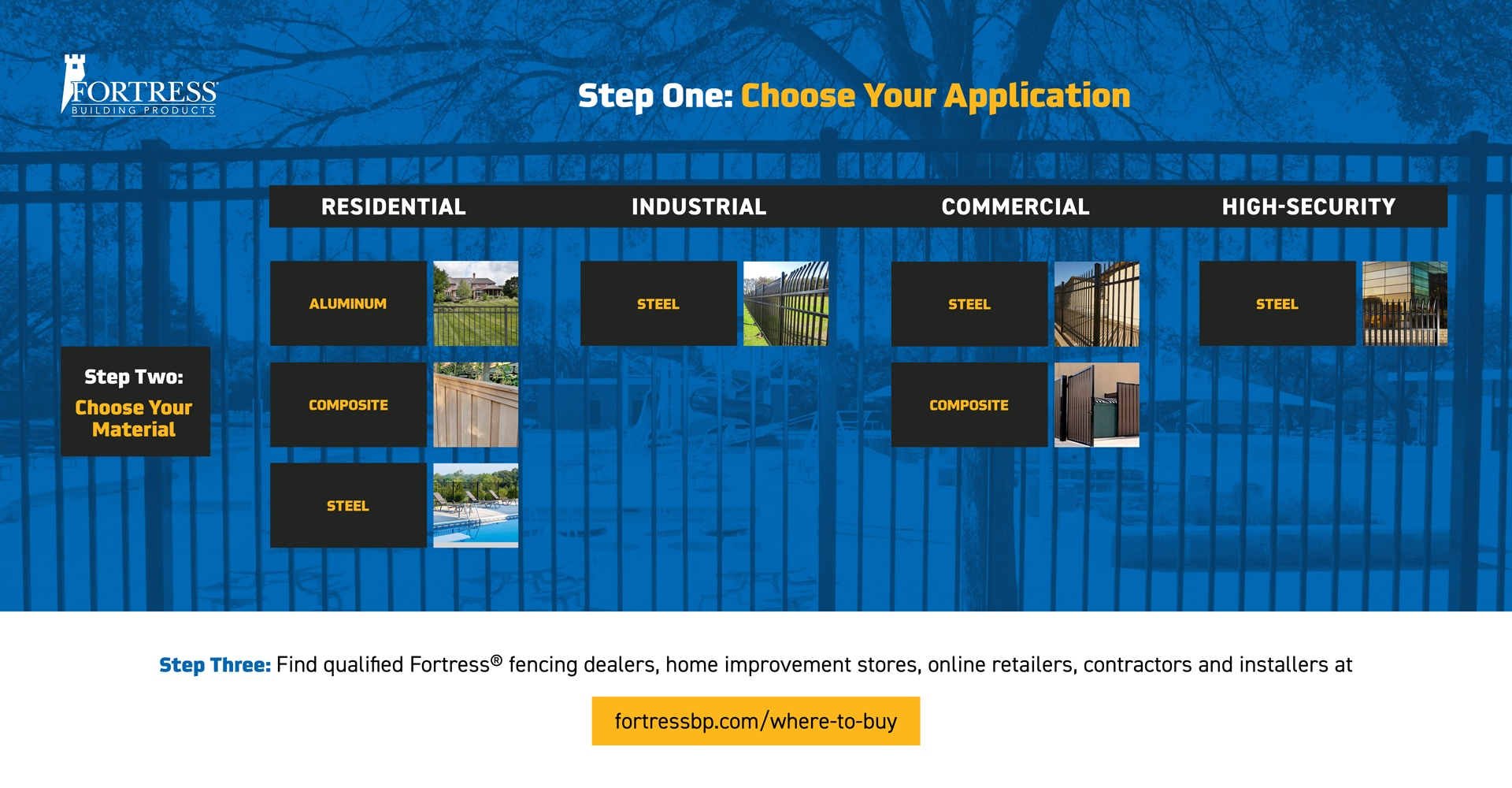 Ultra-lightweight aluminum fence panels shine in residential applications with steep grade changes. The once unassuming and hard-to-install aluminum fence offerings have been replaced with easily adjustable, low maintenance solutions that bring effortless style to both traditional and modern homes. Today's lightweight panels can be installed quickly and can typically accommodate steep grade changes across a customer's property. This premium design flexibility was not always the case, but recent technology advances enable rails to follow the ground while the pickets stay vertical.
Composite fence panels offer lasting wood-like aesthetic. Composite fence panels offer the old-school charm that wood provides without the propensity to decompose from the effects of weathering. With this luxury, residential and commercial building owners will spend very little time on upkeep—forget additional staining or painting. Select fencing manufacturers bring new levels of performance and aesthetic appeal to the perimeter line with steel rail and picket fences that are engineered to have composite panels attached between the pickets. Damaged panels can be replaced if necessary without having to disassemble the entire fence system.
Premium ornamental steel fencing can secure properties in style. Regardless of application type, property owners are looking for a perimeter solution that's strong enough to provide adequate security, but also offers a beautiful first impression. To meet this challenge, building professionals can turn to steel. Difficult for trespassers to scale, especially when topped with finials, ornamental steel fence systems compare favorably with sought-after wrought iron and masonry builds. For ease of installation, select manufacturers offer completely rackable systems, a technology which allows the fence to follow the contour of even the most aggressive landscapes.
Regardless of which fencing material a building professional recommends, Fortress Building Products can provide the total solution for the perimeter line across a variety of applications. See how Fortress® fencing stacks up at FortressBP.com/fencing.